How to set up your Essential Plan
First, you will provide us with your basic information. This includes your name, number, and how to pronounce your name.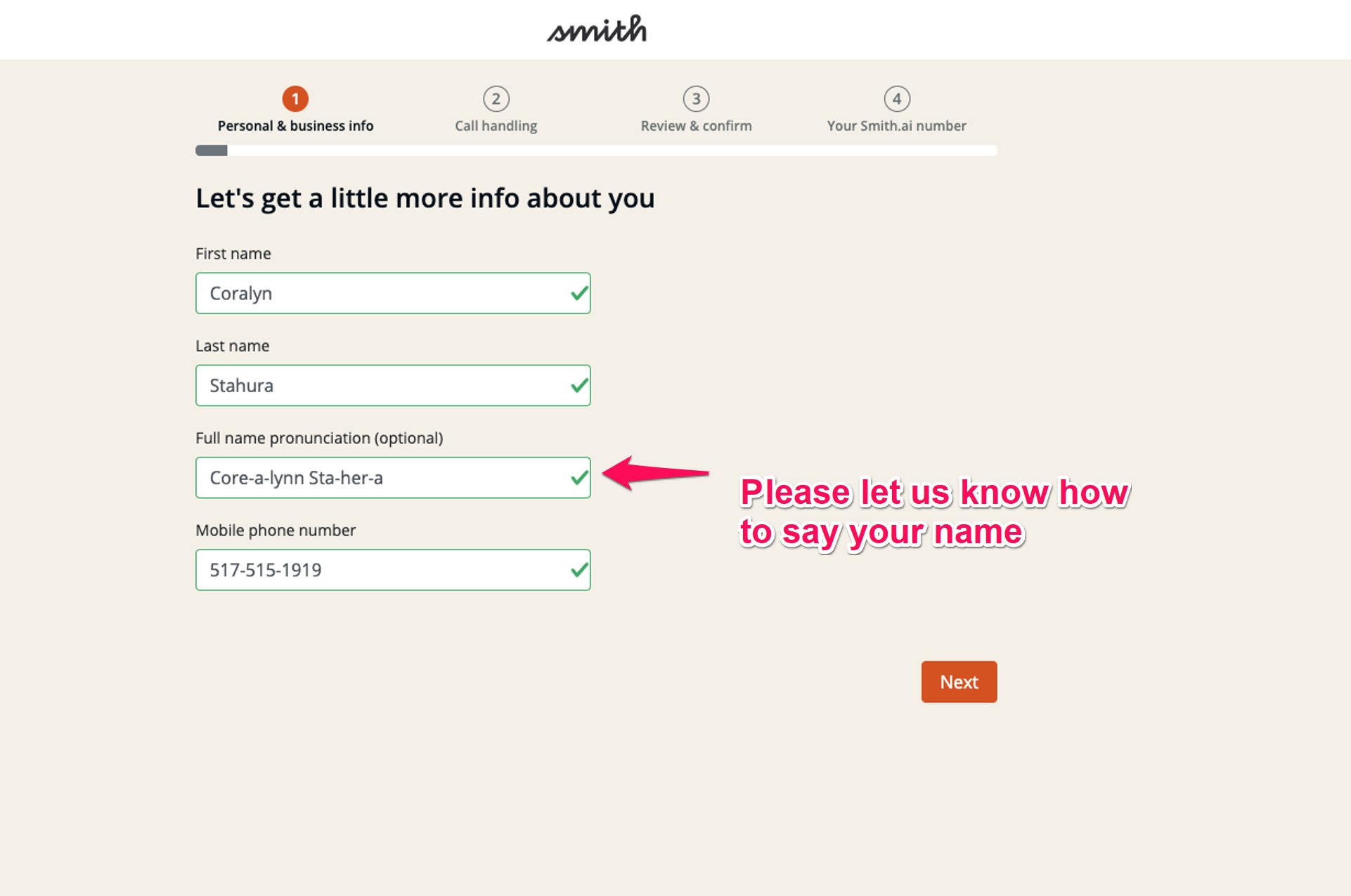 Next, you will put in the email address that you want us to send your call summaries to, along with a mobile number, if you wish to receive them via SMS/text message, as well.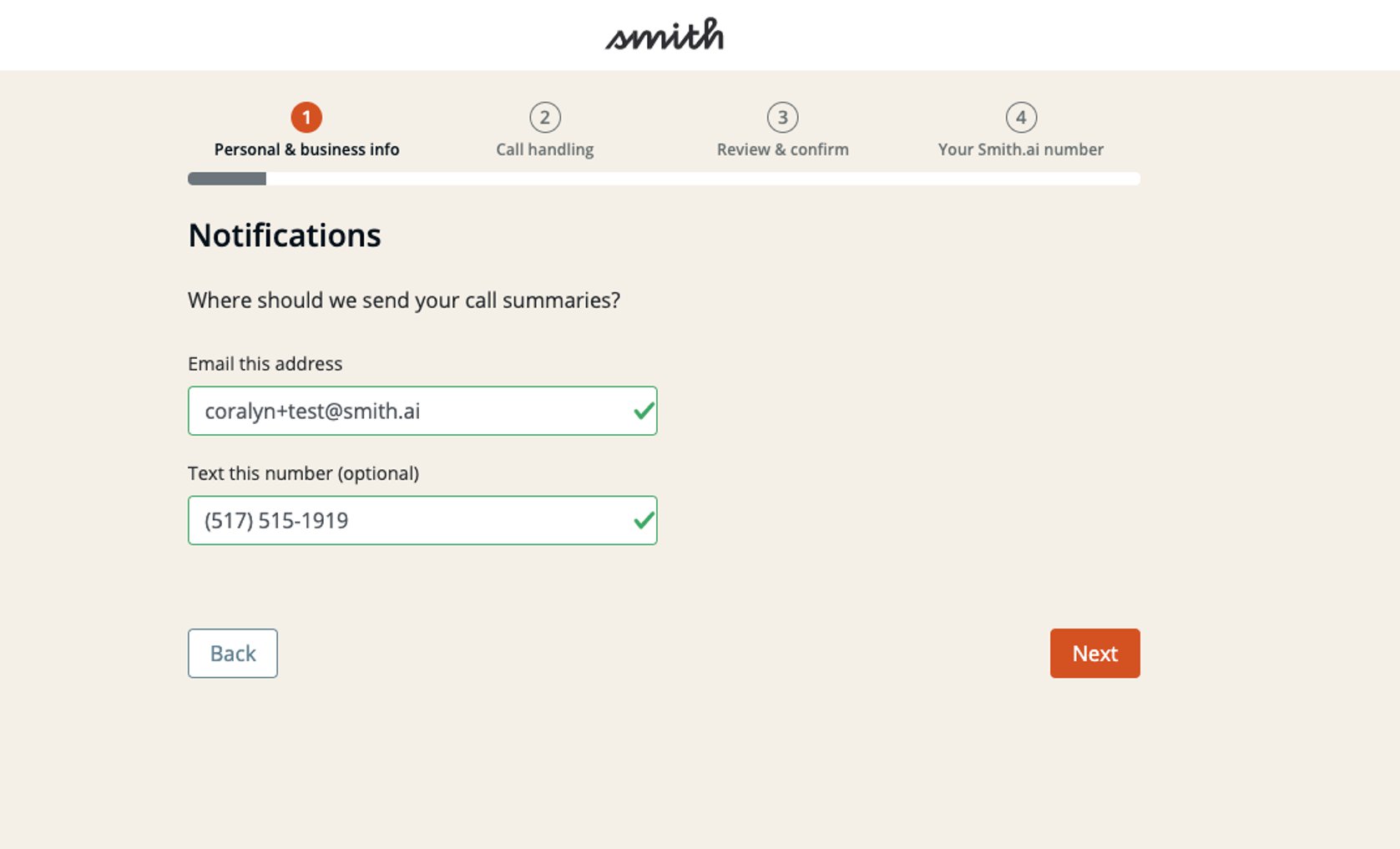 Then you will tell us more about your business. Provide us with your business name, what it is you do, and the phone number that clients call to reach you. We suggest adding your website, as it allows our agents to learn more about you and your company.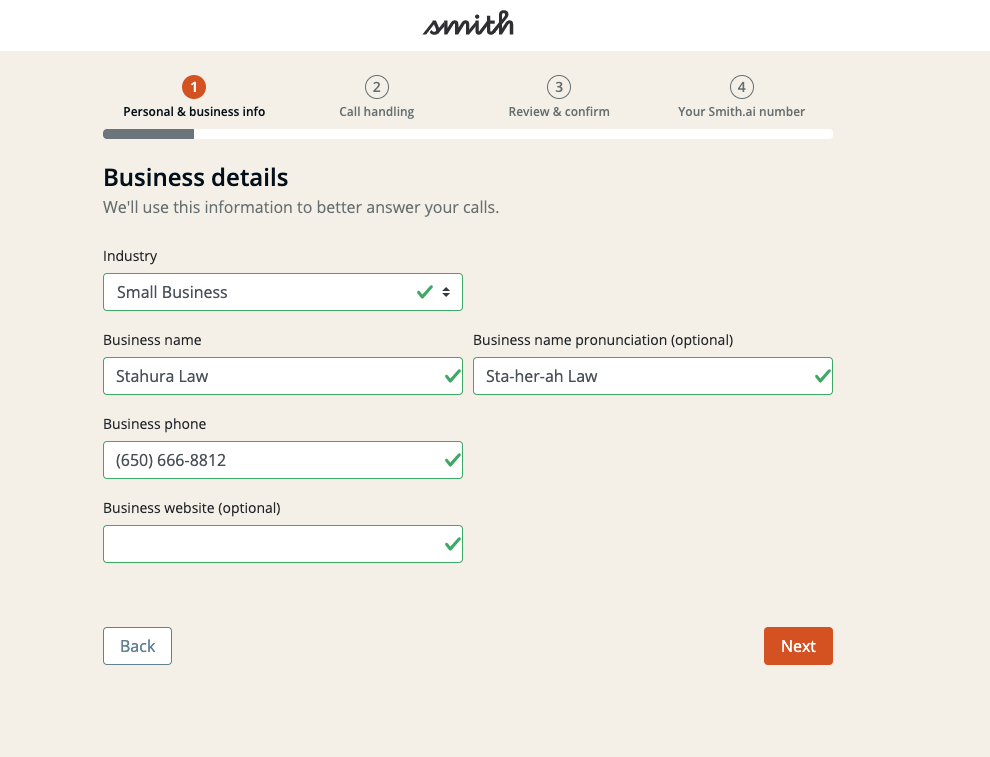 You will then provide us with a bit more detail about your business, such as your hours of operation, a physical and/or mailing address, and the time zone you are located in. Describe to us what your business does, and the scope of services you provide.
Next, you can include physical directions to your office for us to provide to your clients when needed. Also, let us know of any FAQ's that we would need to be aware of in order to answer your client's common questions.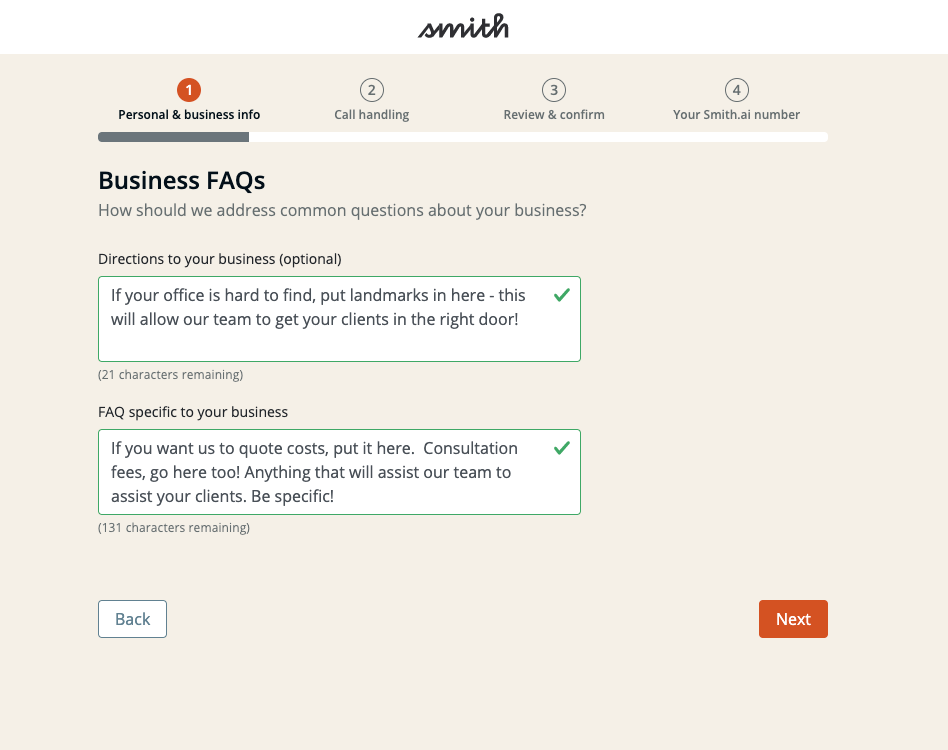 You have the option to add up to 10 service or practice areas that are more specific on what your business offers. This allows us to screen your calls and answer questions about what you do. Include the Employee's who work for your business, so we can reference this information and transfer calls to them if needed.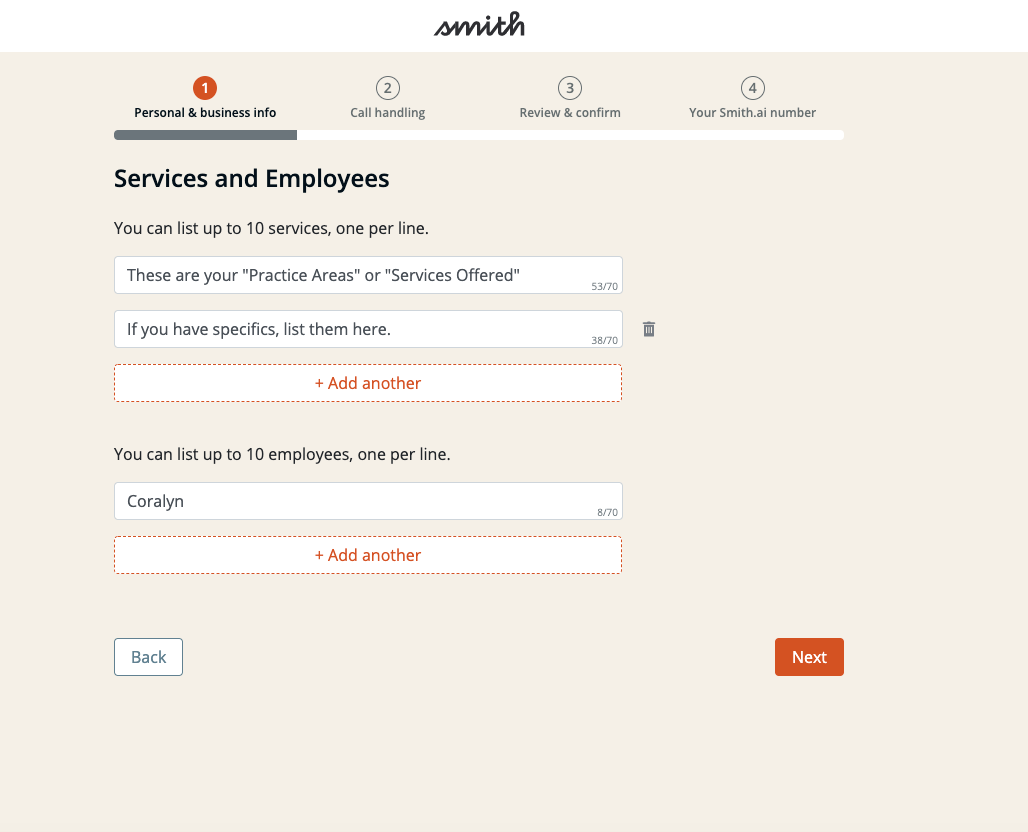 Let us know how you want us to greet your callers, and add any special instructions we should know about.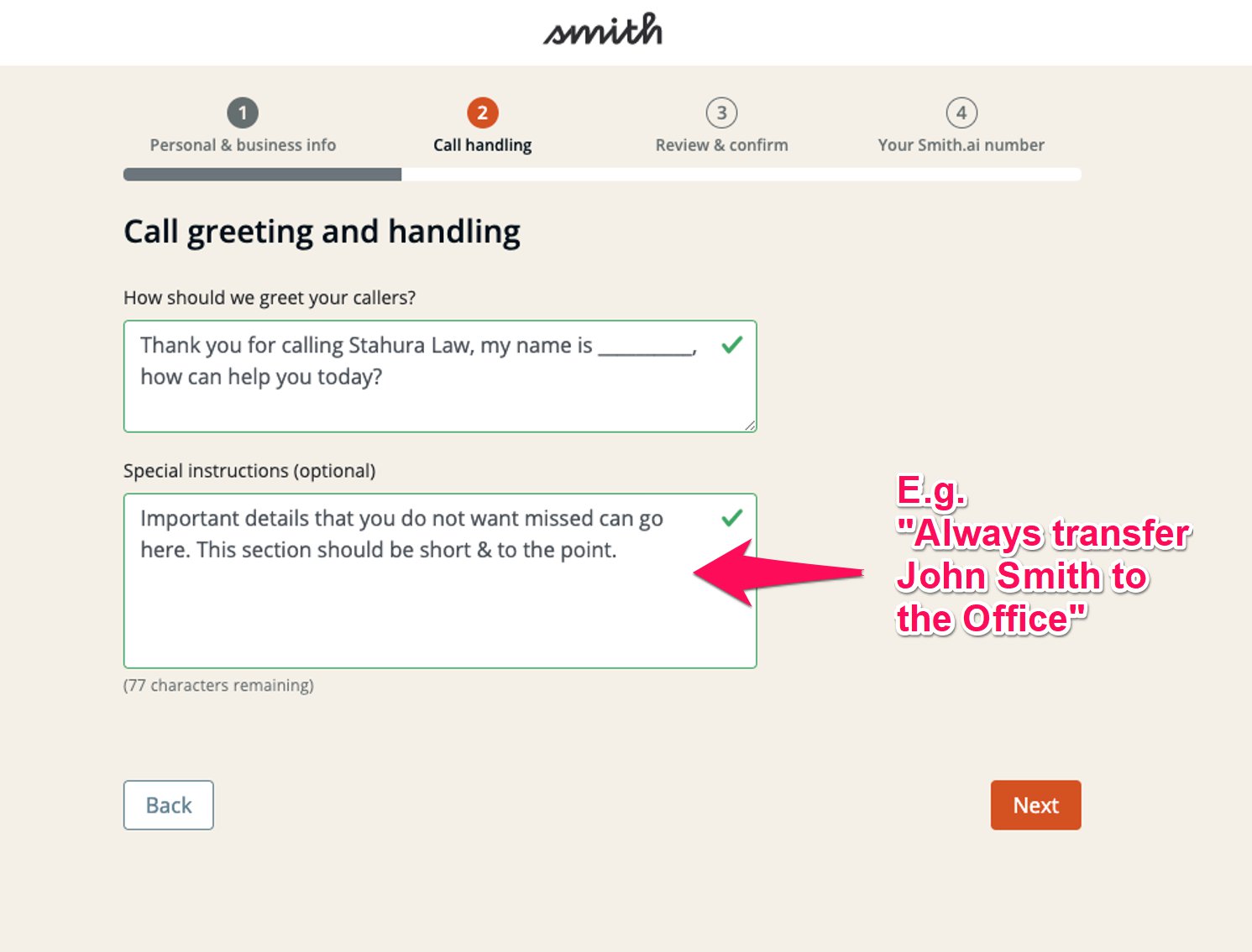 Then you can select what information you want us to collect while handling your calls. Tell us if you want us to take messages for that type of call, or if you want us to attempt to transfer the call to you.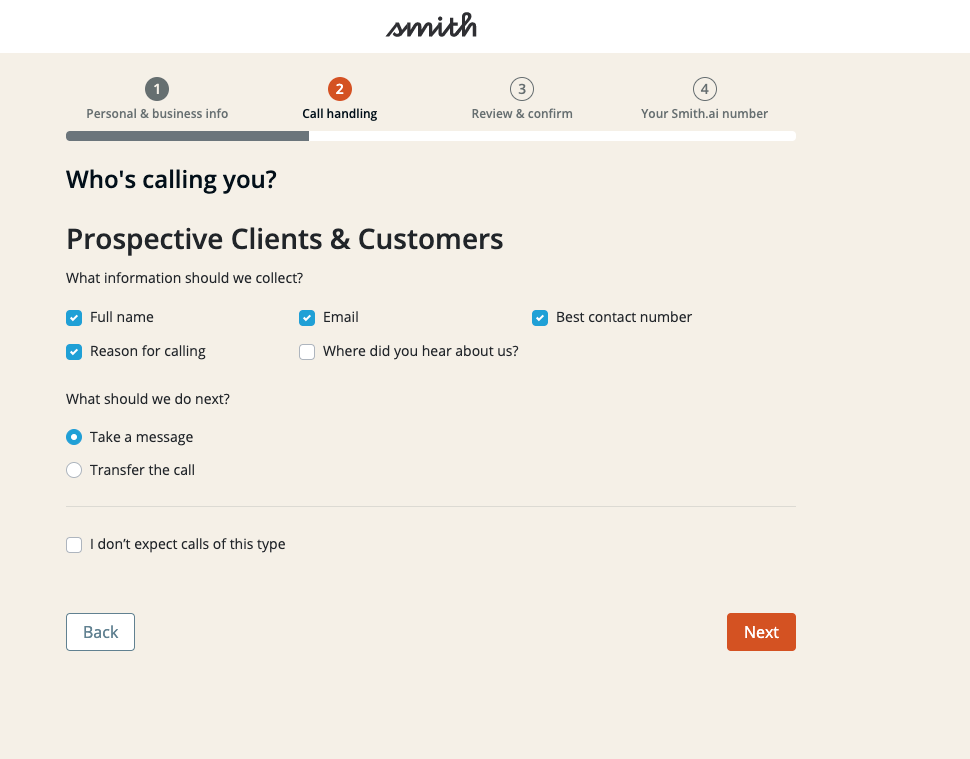 If you want us to transfer calls through, you will need to provide a transfer number for us to use. Be sure to include whose line this is, and an extension (if there is one).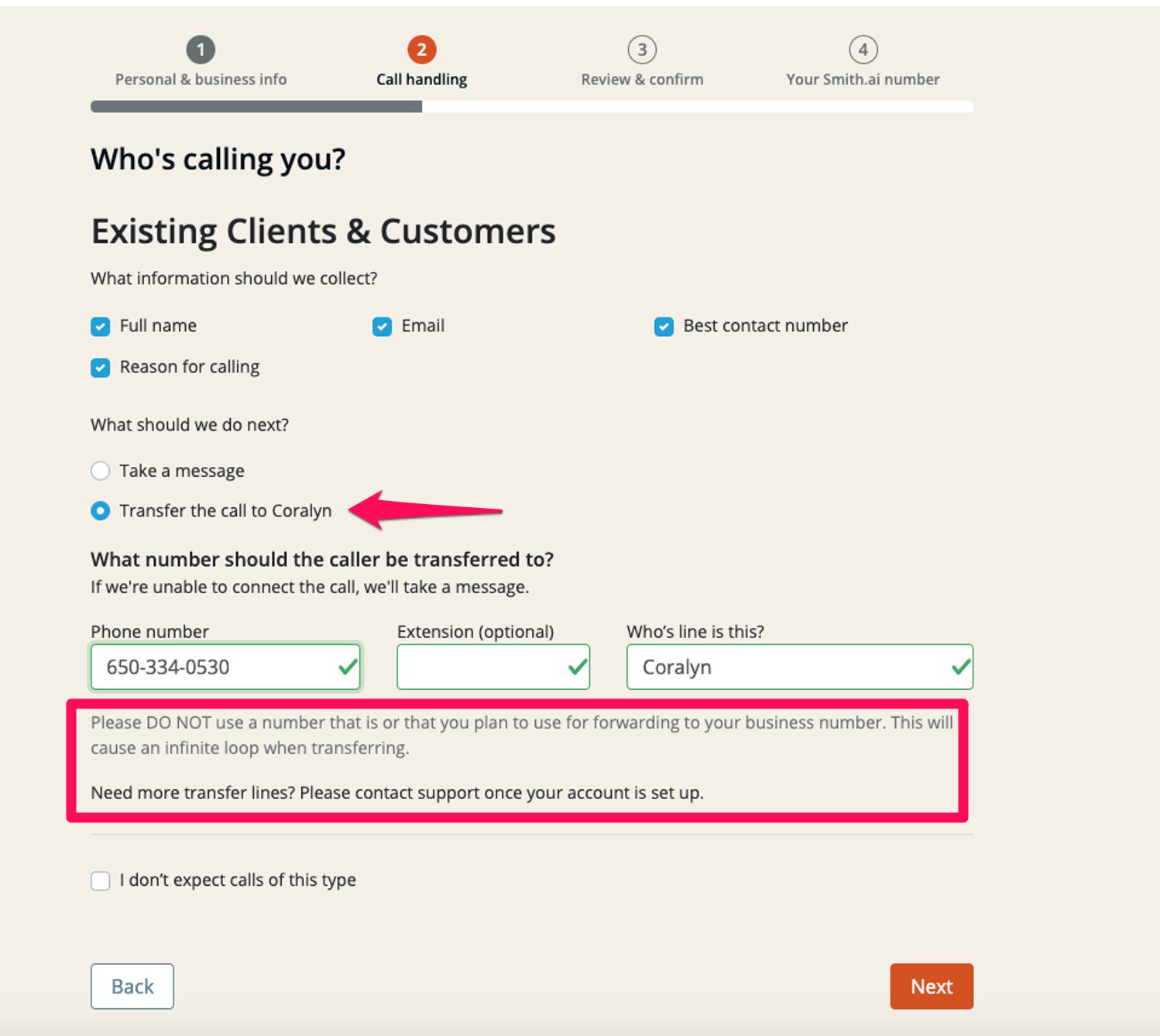 If you would like us to transfer calls, you must provide a number that is NOT forwarded to our team.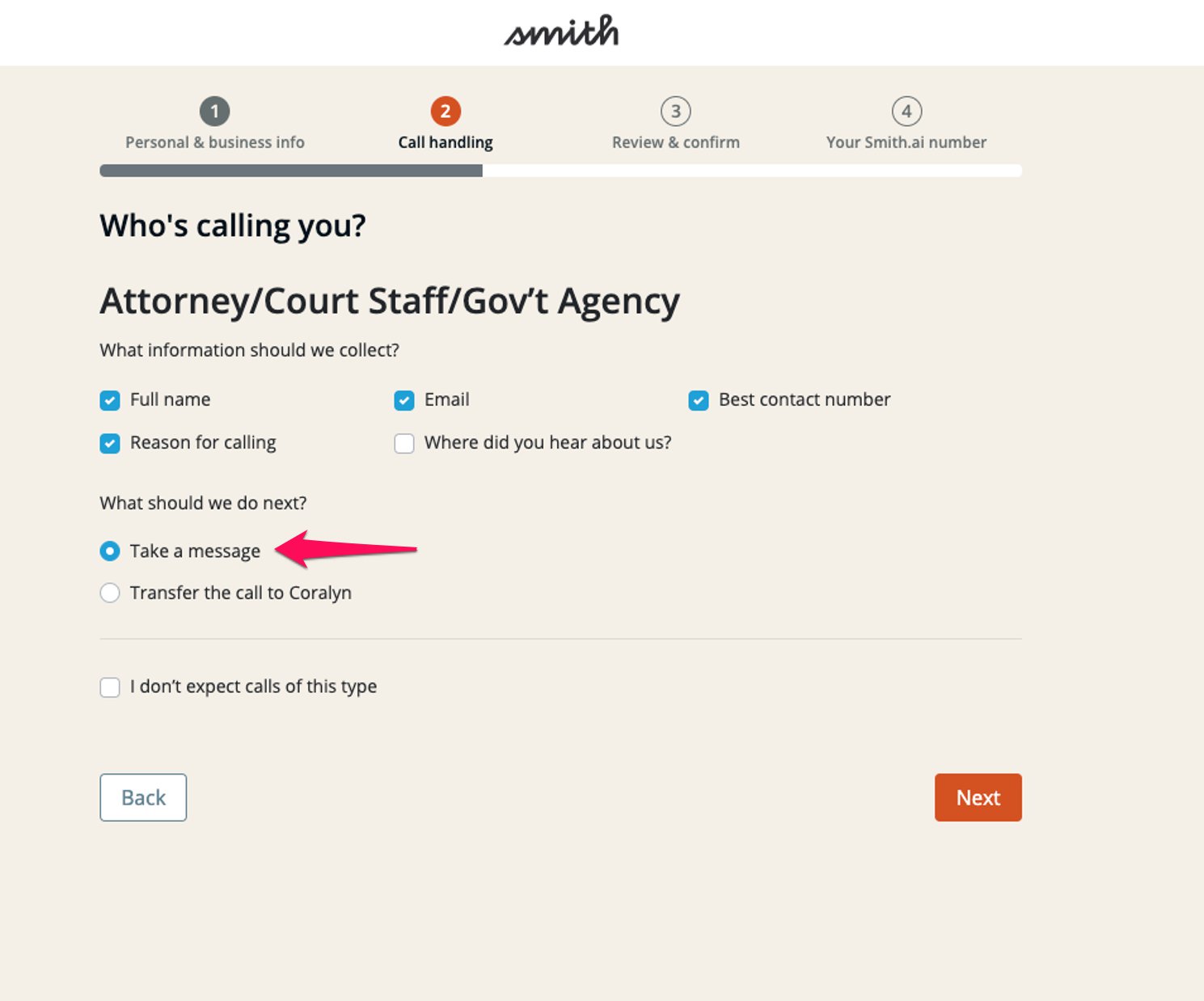 Selecting "Take a Message" will let us know you want us to gather the required information, and to let the caller know that we will pass along a message for your follow up.
Provide instructions for those miscellaneous calls that don't quite fit into one of the listed categories. These instructions are referred to as "All Other Calls".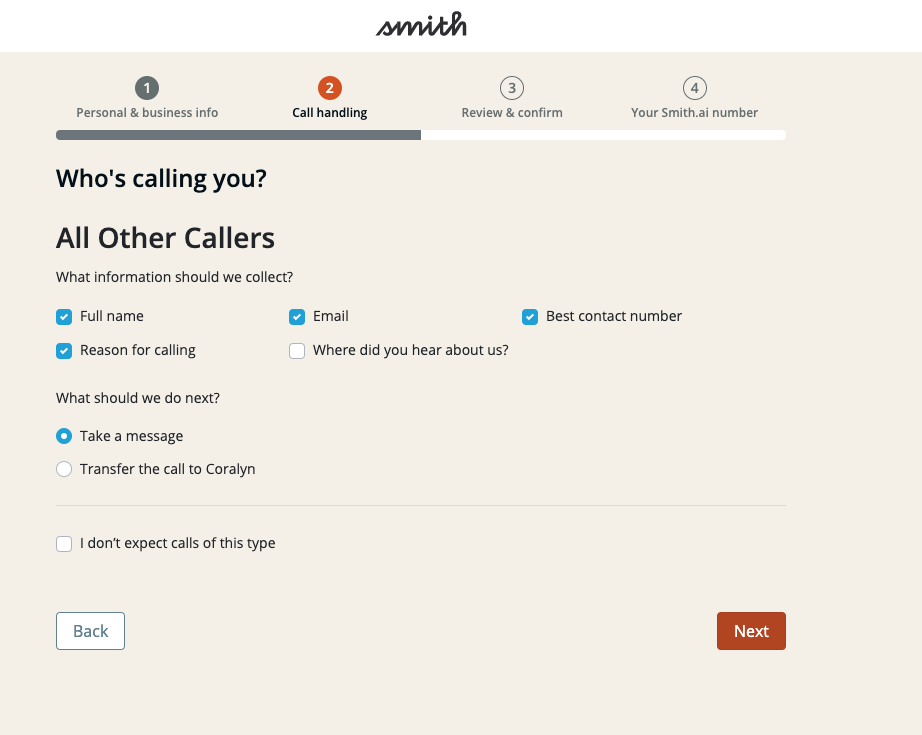 Make sure to review your information before submitting, and click Change if you need to make any edits.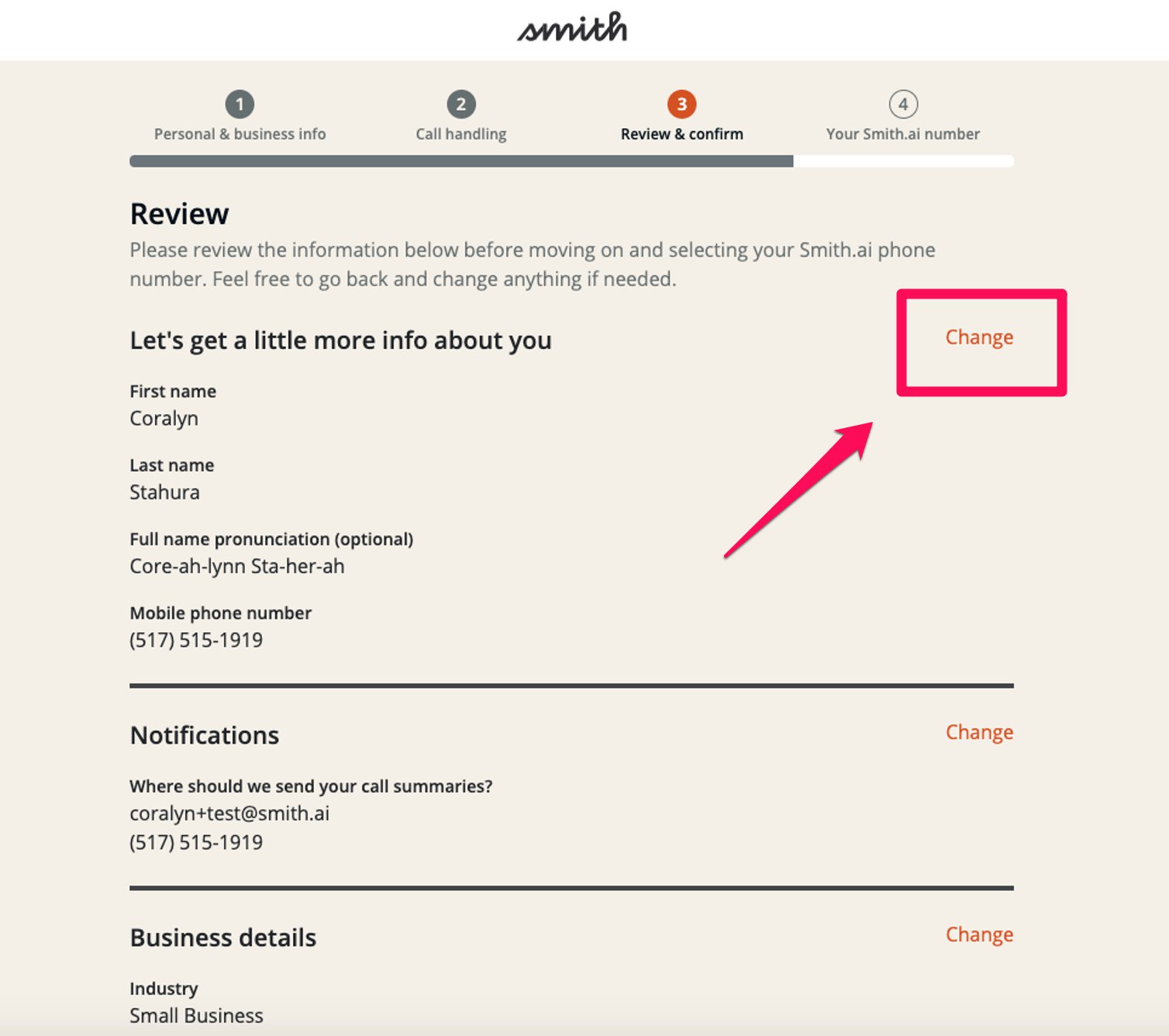 From here you will now choose your Smith.ai phone number. This will be the number you will forward your calls to. You can type in the box the area code you would like, and then you can select a number that shows as available from the list.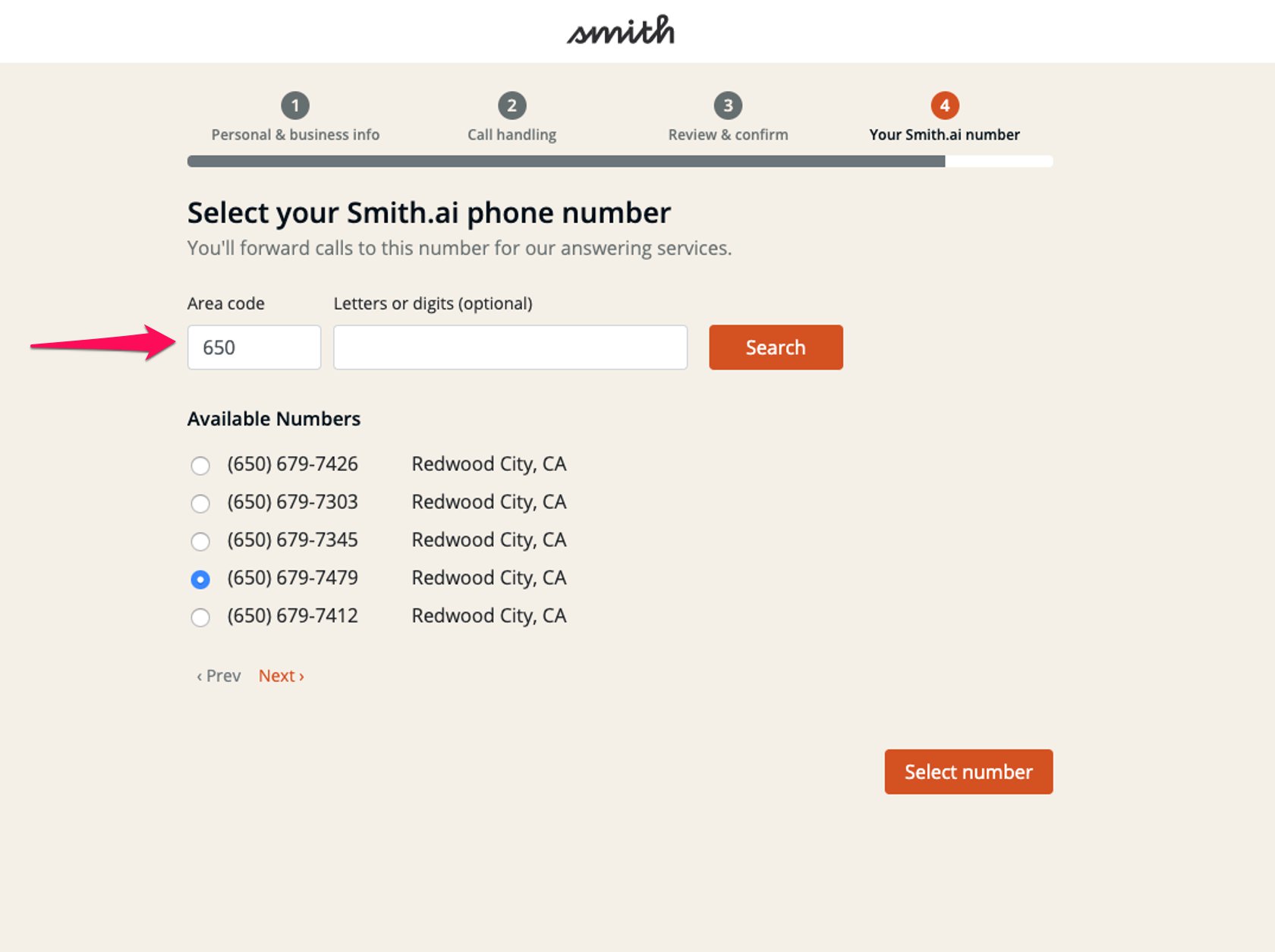 You will have the option of adding your payment information. This will ensure your service is not interrupted when your trial period ends.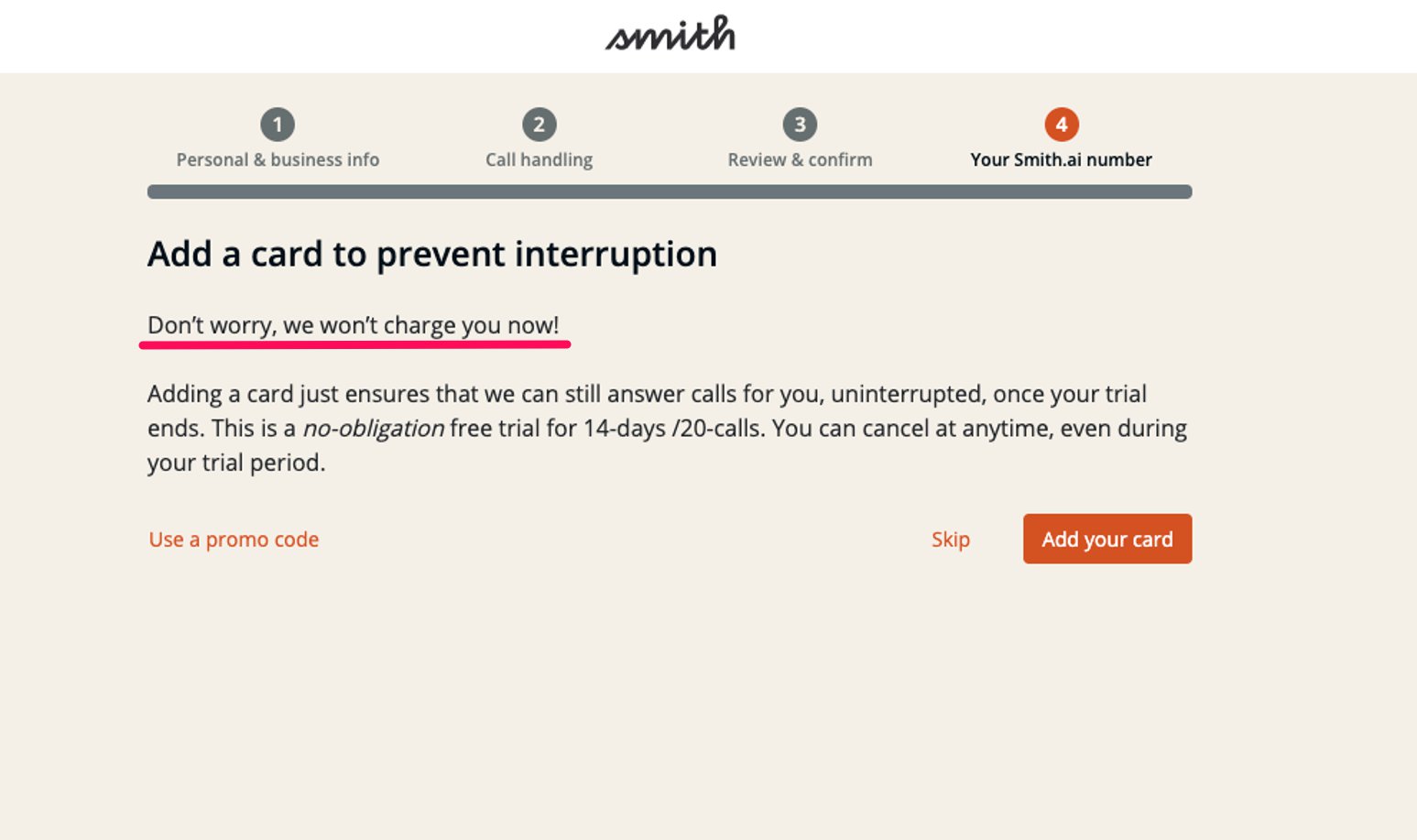 Do you have a Promo code? Enter it here to get your discount!
That is it, you have completed your account!
You are now ready to start forwarding your calls to your Smith number. If you are unsure how to do so, there are several options that will direct you to instructions on how to forward your calls depending on the phone provider you use.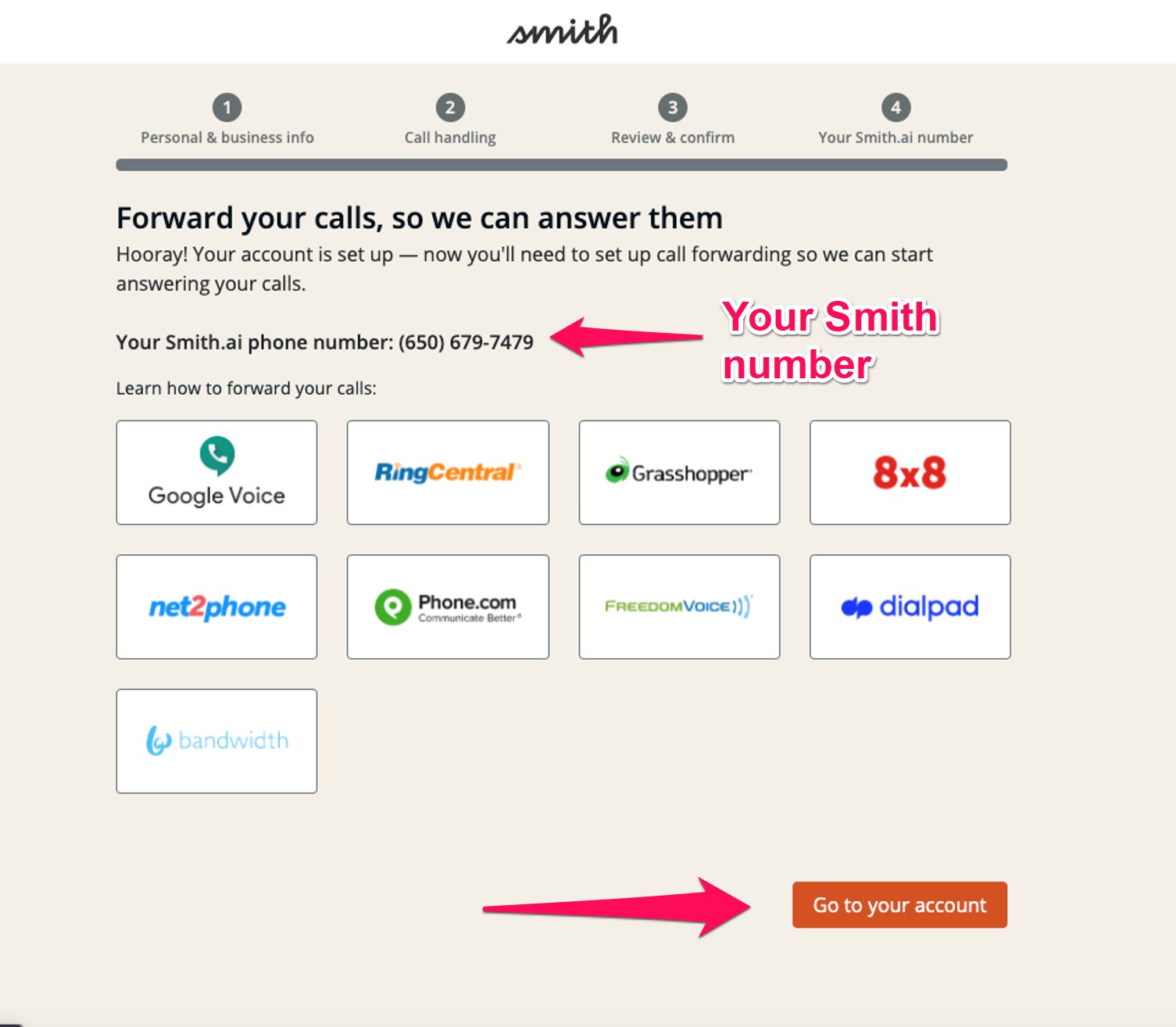 Click on Go to your account to access your Smith.ai Call Dashboard. Here you can view your instructions, call history, instructions, and the Settings for your Account. To make changes to your Account, reference How to Update your Account for a guide on how to do so.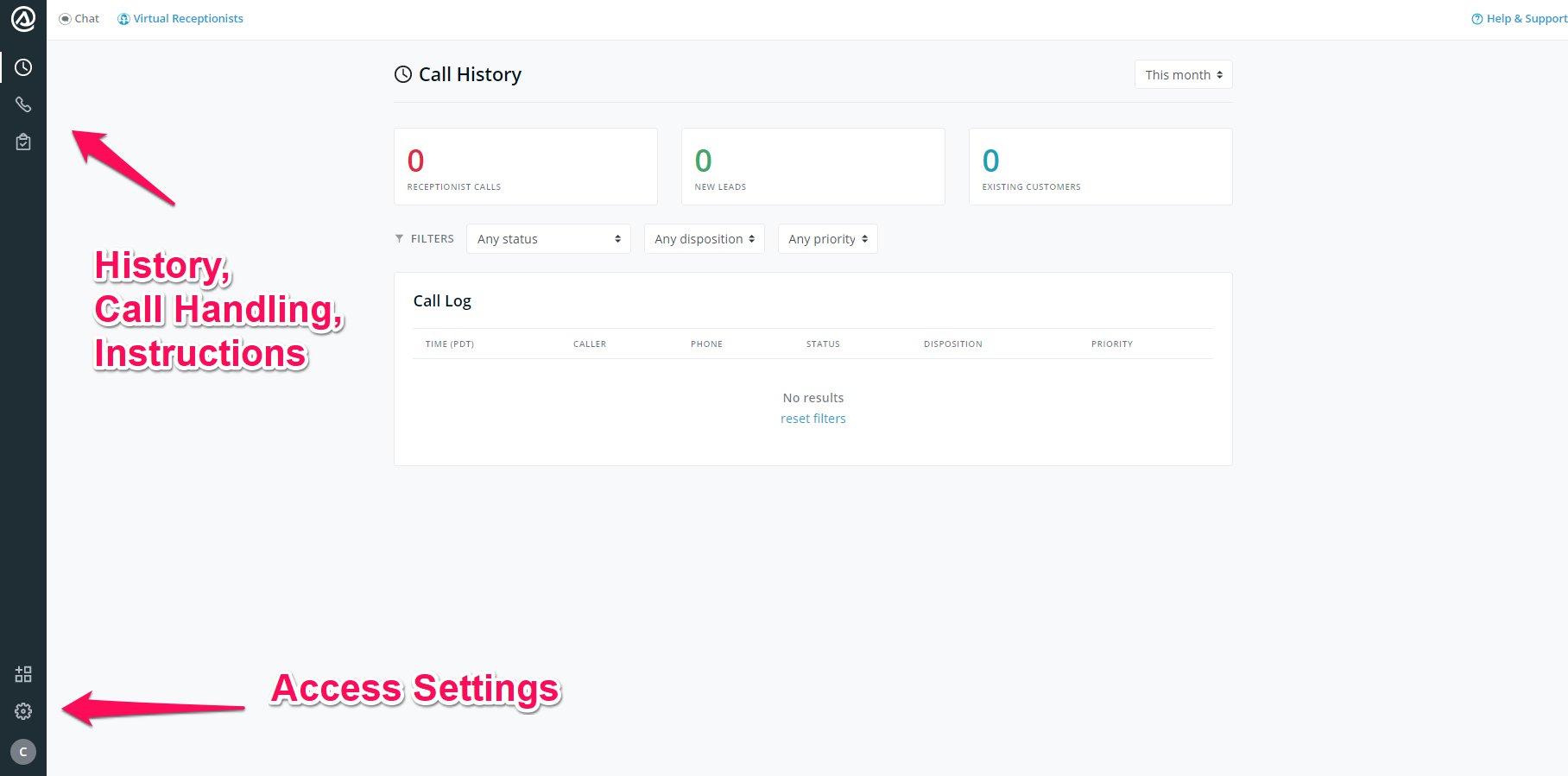 Need help?
Run into issues? Support for Essential Plan users is via email only, 7 days a week. Email us at support@smith.ai for assistance.
---
---