How to Connect Smith.ai's Virtual Receptionist Service to Zapier
How to Connect Smith.ai's Virtual Receptionist Service to Zapier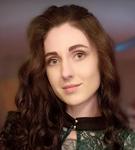 Updated by Crystal Field
Our Zapier integration helps business owners save tons of time by automating processes that have previously been manual. Imagine taking every caller and adding them to your Google contact list by hand: This and thousands of other processes can be automated through Zapier, taking the manual work of your hands so you can get back to work.
What is Zapier?
Zapier connects your existing platforms, so you can sync information and initiate workflows. You can use the Smith.ai Zapier integration to add caller information to thousands of applications, like your CRM, Google Sheets, your Google Contacts, and more. The options are endless.
Automated connections, called Zaps, are made up of Triggers and Actions. Smith.ai is a Trigger — you can send the information from a call to another app automatically after each call.
You can set up Zaps in minutes with no coding, by automating your day-to-day tasks and building workflows between apps that otherwise wouldn't be possible.
Check out our Best practices with Zapier document for further tips and suggestions on how to use Zapier.
How to Connect Smith.ai to Zapier
Go to the Smith.ai dashboard.
Click on the Integrations icon in the lower left corner of your call dashboard or go directly to app.smith.ai/vr/integrations.

Find and click Zapier in the list of integrations.

Click Connect Zapier.

You'll see your API key immediately on the next screen. Click the blue icon to the left of your API key to copy it to your clipboard. You'll use this API key later.

Now you'll want to navigate to Zapier to complete the setup. Sign up for a Zapier account for free. If you already have one, log in.
Go to your My Apps page at https://zapier.com/app/connections.
Click the Add Connection button in the upper right corner.

Search for "Smith.ai" and choose the Smith.ai app with our red logo.

Your Smith.ai account should now be connected to Zapier. Don't worry, nothing will happen until set up a Zap.
Where can I get suggestions on what to set up through Zapier?
Data available to use in your Zap
The following data is sent to Zapier for each "New Call" trigger.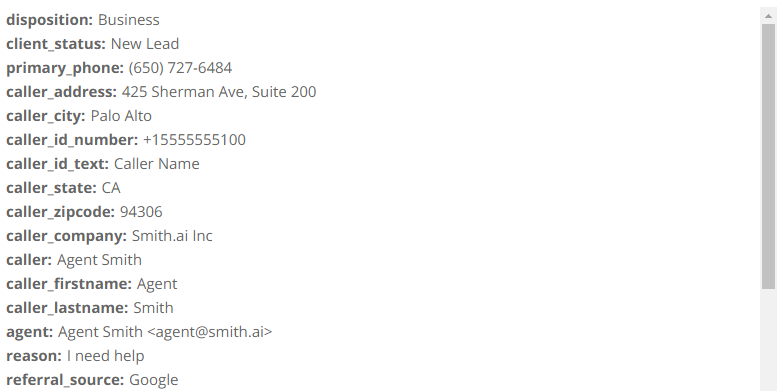 disposition
client_status
primary_phone
caller_address
caller_city
caller_id_number
caller_id_text
caller_state
caller_zipcode
caller_company
caller
caller_firstname
caller_lastname
agent
reason
referral_source
summary
priority
email
time_created
tracking_id_number
tracking_id_text
id
​Note: Your first integration is free. If this is your second integration, you will be prompted to accept a $0.50/call add-on charge. For more information, see our add-on
pricing
.
Zapier FAQ