How to Connect Smith.ai to Zapier
How to Connect Smith.ai to Zapier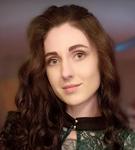 Updated by Crystal Field
Our Zapier integration helps business owners save tons of time by automating processes that have previously been manual. Imagine taking every caller and adding them to your Google contact list by hand: This and thousands of other processes can be automated through Zapier, taking the manual work of your hands so you can get back to work.
What is Zapier?
Zapier connects your existing platforms, so you can sync information and initiate workflows. You can use the Smith.ai Zapier integration to add caller information to thousands of applications, like your CRM, Google Sheets, your Google Contacts, and more. The options are endless.
Automated connections, called Zaps, are made up of Triggers and Actions. Smith.ai is a Trigger — you can send the information from a call to another app automatically after each call.
You can set up Zaps in minutes with no coding, by automating your day-to-day tasks and building workflows between apps that otherwise wouldn't be possible.
Check out our Best practices with Zapier document for further tips and suggestions on how to use Zapier.
How to connect Smith.ai to Zapier
Sign up for a Zapier account for free. If you already have one, log in.
Click Make a Zap in the upper left corner.

Search for "Smith.ai" in the Trigger App Event section and choose the Smith.ai app with our red logo.

Choose New Call as the trigger event then click Continue

When asked to choose an account, click Sign in to Smith.ai. You'll only have to do this one time for your Zapier account.

A window will pop open asking for an API key. You can access your Zapier API key in your Smith.ai Call Dashboard. Sign in to your dashboard at app.smith.ai/vr.
Click on the Integrations icon in the lower left corner of your call dashboard or go to app.smith.ai/vr/integrations.

Scroll to the bottom of the list of integrations where you'll see Zapier. Click on it.

Then click Connect Zapier.

Note: Your first integration is free. If this is your second integration, you will be prompted to accept a $0.50/call add-on charge. For more information, see our add-on pricing.

You'll see your API key immediately in the next screen. Click the blue icon to the left of your API key to copy it to your clipboard.

Navigate back to the Zapier window you left open. Add your copied API Key to the field and click Yes, Continue.

Your Smith.ai account should now be connected to Zapier. Don't worry, nothing will happen until you set up the trigger part of your Zap.

Click Continue and then Test Trigger. If your Smith.ai account is set up and we've taken a call for you, it will show up here. If we haven't taken any calls yet, you will see some test data to work with.

Click Continue and then go about setting up your action.
Data available to use in your Zap
These key-value pairs (data) are available to use when building your zap: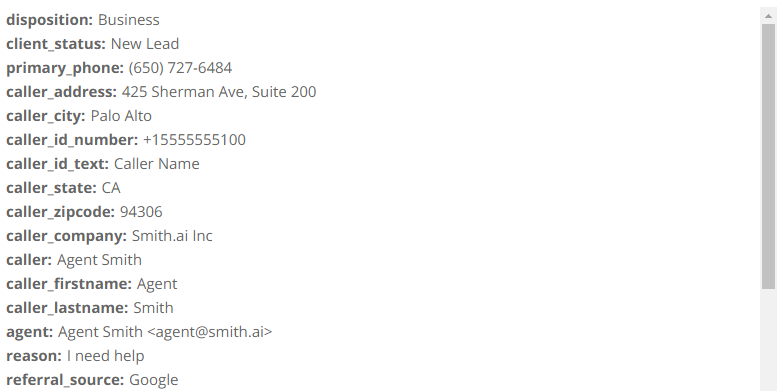 disposition
client_status
primary_phone
caller_address
caller_city
caller_id_number
caller_id_text
caller_state
caller_zipcode
caller_company
caller
caller_firstname
caller_lastname
agent
reason
referral_source
summary
priority
email
time_created
tracking_id_number
tracking_id_text
id
Zapier FAQ
How much does a Zapier integration cost?
There are three factors to consider in the cost of a Zapier integration. 
Smith.ai: Your Smith.ai account comes with one free integration. If Zapier is your second integration, it will cost $0.50/call or chat. Note: The Zapier integration will incur a $0.50/chat cost with our free AI-chatbot, even if it's the first integration.
Zapier: Zapier has a free plan which includes single-step Zaps and 100 tasks per month. We recommend starting with this plan and only upgrading if you need to.
You can learn more about Zapier's paid plans on their website.
3rd Party App: Many apps, like Google Sheets and HubSpot, don't require an additional subscription to connect to Zapier. Ask about prices from the company you're ultimately sending your calls and chats to.
What kinds of platforms does Zapier integrate with?
At the time of writing, Zapier connects to over 3,000 apps. The most popular to use with Smith.ai are CRMs, case management tools, communication platforms, spreadsheets, contacts, email marketing, calendars, billing, and more. But with email organization, social media, lead magnet tools, and even video platforms, you may find that Zapier automations are useful beyond Smith.ai too!
Where can I get suggestions on what to set up through Zapier?
Looking for some popular use cases?
Here are some pre-made Smith.ai Zap templates:
Can Smith.ai's Support Team help me set up my Zapier integration?
Unfortunately no, we are not Zapier experts. You can search for guides in our documentation or dive in and try to set up the integration Zapier yourself (remember, it doesn't require any coding knowledge).
If you're still struggling to set up a Zapier integration, we recommend looking on UpWork for an automation expert who can build and maintain your Zaps.
Or you could hire one of Zapier's certified experts.
How is Zapier different from a native CRM integration?
Smith.ai has dozens of native integrations with CRMs and case management platforms. "Native" means you don't need Zapier to connect them.
There are two main reason why you might want to use Zapier instead of a native integration:
Smith.ai doesn't have a native integration with your platform. If you use a CRM or other tool that Smith.ai hasn't built an integration with yet, Zapier is a great option to still automate your workflow.
Zapier offers more customization than the native Smith.ai integration. Our integrations log calls and chats in your CRM immediately and in the same way every time — which works for most users. Zapier offers a lot of flexibility in the way you log calls and chats.
How can I use Zapier in ways other than logging calls/chats in my CRM?
Looking for other ways to use your new Zapier integration? There are thousands of options for how to use the data that comes in every day from your callers and chatters. Here are a few ideas to get you started:
Log all callers as contacts in your Google Contacts or Microsoft 365 account
Add emails from callers and chatters to your email marketing platform
Log new leads as rows in a spreadsheet for future tracking
Have every call summary and chat transcript sent to a Slack or Teams channel for collaboration and transparent follow-up
Have new lead calls create a reminder on your Google Calendar to follow up in a certain time period
Add a new lead as a task in your Todoist or Evernote account 
If this is your first time using Zapier, take a look at other automations between platforms. You may find that there are multiple Zaps you can create that save you tons of time in the long run!
What are you using your Smith.ai Zapier Zap for? Please let us know! We'd love to feature you on our blog.