How to connect Smith.ai to Zapier
Our Zapier integration helps business owners save tons of time by automating processes that have previously been manual. Imagine taking every caller and adding them to your Google contact list by hand: This and thousands of other processes can be automated through Zapier, taking the manual work of your hands so you can get back to work.
What is Zapier?
Zapier is a platform that connects apps to each other. You can use it to automate data capture, workflows, alerts, tasks, and more. "Zaps," as Zapier calls them, are made up of Triggers and Actions. Smith.ai's Zap is a Trigger — you can use it to automate notifications, logging data, and more after each call we take. Here we'll explain how to get started.
Data available to use in your Zap
These key-value pairs (data) are available to use when building your zap: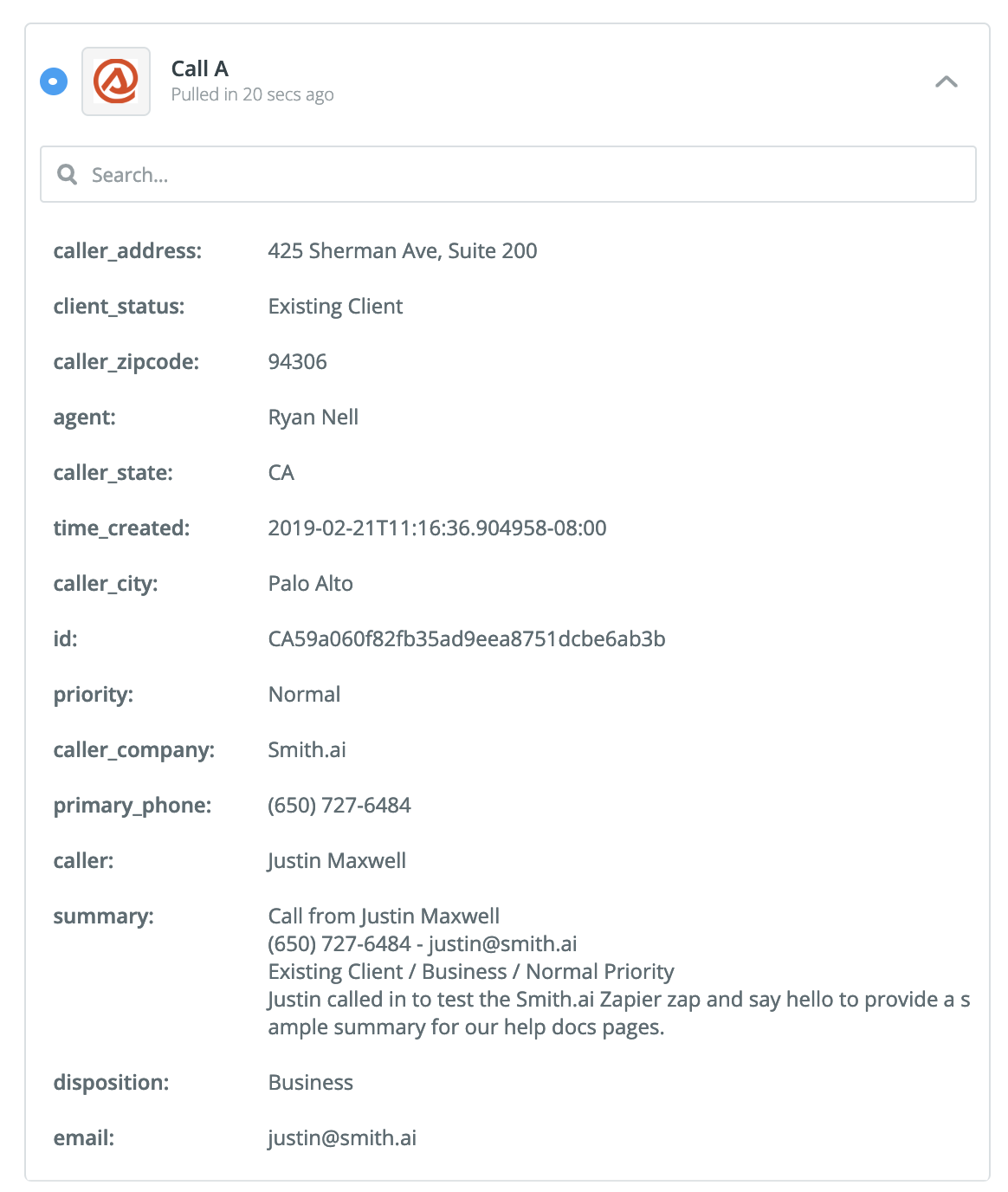 id
time_created
agent
caller
primary_phone
email
caller_company
caller_address
caller_city
caller_state
caller_zipcode
client_status
priority
disposition
summary
How to connect Smith.ai to Zapier
Sign up for a Zapier account for free. If you already have one, log in.
Click Make a Zap in the upper left corner.

Search for "Smith.ai" in the Trigger App Event section and choose the Smith.ai app with our red logo.

Choose New Call as the trigger event then click Continue

When asked to choose an account, click Sign in to Smith.ai. You'll only have to do this one time for your Zapier account.

A window will pop open asking for an API key. You can access your Zapier API key in your Smith.ai Call Dashboard. Sign into your dashboard at app.smith.ai/vr.
Click on the Integrations icon in the lower left corner of your call dashboard or go to app.smith.ai/vr/integrations.

Scroll to the bottom of the list of integrations where you'll see Zapier. Click on it.

Then click Connect Zapier.

You'll see your API key immediately in the next screen. Click the blue icon on the left of the API key to copy it to your dashboard.

Navigate back to the Zapier window you left open. Add your copied API Key to the field and click Yes, Continue.

Your Smith.ai account should now be connected to Zapier. Don't worry, nothing will happen until you set up the trigger part of your Zap.

Click Continue and then Test Trigger. If your Smith.ai account is set up and we've taken a call for you, it will show up here. If we haven't taken any calls yet, you will see some test data to work with.

Click Continue and then go about setting up your action.
Example Action: Create a contact in HubSpot
So in this example, we're going to connect it to our HubSpot account. Click "Add a Step" and search for your CRM or desired action.

We're going to select "Create or Update Contact" but again, do whatever you like here. Save & Continue.

Connect your HubSpot account. Save & Continue.
Insert the tokens for the properties you'd like to populate in the record. You do this by clicking the + sign to the right of a field and selecting it from the information provided by Smith.ai

When you are done, click "Continue." Send the test to your CRM, which for us in this case is HubSpot.

Head on over to HubSpot, and...well, look at that! It worked!

Back in Zapier:

Click "Finish"
Name your Zap something useful. In this example we'd name it Smith.ai to HubSpot
Turn your Zap "on" by toggling the switch in the upper right corner.

That's it! Every 5-15 minutes, depending on your plan, the Zap runs to pull in your most recent calls.

What are you using your Smith.ai Zapier Zap for? Please let us know! We'd love to feature you on our blog.
---
---