How to Connect Your HubSpot Account to Smith.ai
Thanks to HubSpot's open API, Smith.ai receptionists can make data management and client follow-up even easier for you with streamlined workflows between your callers and your HubSpot account.
How the HubSpot + Smith.ai integration works
With the Smith.ai and HubSpot integration, our receptionists can now:
Look up contacts by email
Add and update existing contact records
Add calls as "events" within a contact record
Add call summaries to these events within records
A new contact record created by a receptionist after a call will look something like this:
How to connect your HubSpot account with Smith.ai
If you're already a HubSpot user, getting started is simple: 
Request your unique HubSpot-Smith.ai "app approval URL" by emailing support@smith.ai.
Once you receive the URL (typically in less than 24 hours), log in to your HubSpot account, and then open the URL. Approve the Smith app when prompted.
Reply to the original email you sent to support@smith.ai to confirm you have accepted the app, and send us any HubSpot-specific call handling requests.
That's it! You'll now see HubSpot contacts added and updated by your receptionists after each call.
Note: Once your HubSpot account is connected to Smith.ai, to view Smith.ai call activity, please be sure to select the box for "Smith.ai" under "Integrations" in your Activity Filter. To access this menu, just click on "Filter activity."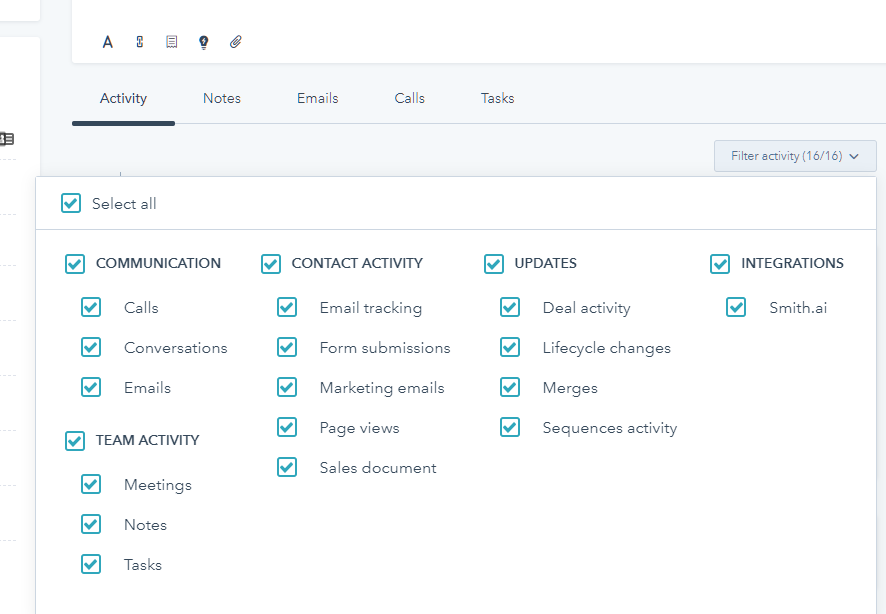 Please note: Each plan includes one free integration. CRM integrations are not available for Essential plans. View current pricing.
Contact Smith.ai for assistance
Not sure how you can best leverage the HubSpot integration with your Smith.ai receptionists? We're happy to discuss implementation options and best practices. Please reach Smith.ai Support via phone at (650) 727-6484 and via email at support@smith.ai during the following hours:
Monday through Friday: 5am – 6pm PT / 8am – 9pm ET
Saturday and Sunday:  6am - 4pm PT / 9am - 7pm ET
---
---