What is the Smith.ai Referral Program?
What is the Smith.ai Referral Program?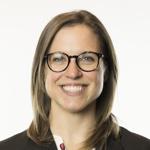 Updated by Kelsey Johnson
At Smith.ai, referrals are our #1 source of new business. We rely on happy clients like you to share the benefits of our services with your friends, peers, and professional networks.
As a thank you, we'll give you a $25/month in account credit for every paying client you refer. That's $25 taken off your Smith.ai bill, every month, for as long as they remain a client! Every new referral adds another $25/month discount. 
And there's no limit. We even have clients like attorney Sonia Lakhany who pay $0/month for our services.
Now, referring friends to Smith.ai is even easier!
Every new and existing Smith.ai client now automatically has a personal referral link and promo code assigned to their account. The link and code serve two purposes:
Your friends get $100 off their first month of service when they sign up through the link or use the code
You automatically get a $25 recurring credit applied to your next monthly bill once each friend signs up for a paid plan.
We've eliminated the guesswork, and like most things at Smith.ai, improved an existing system with superior technology and smart workflows.
You can refer friends in your professional networks — on Facebook, Slack, Twitter, email, SMS, anywhere — using the link we created for you. And have the peace of mind we'll credit you, every time.
Where can you find your referral link and code?
In every call summary and chat transcript sent via email, you'll see your referral link. Click on that link to open your personalized referral page, and you'll see your code displayed right there. 
Simply copy the link (or code), and send it to anyone you wish to refer, share it in your peer groups, and save it as a quick reply in your favorite snippet app, like TextExpander. 
Can't find your referral link or code?
If you need help finding your link or code, please email support@smith.ai for assistance.
How the Smith.ai Referral Program works:
You sign up for a Smith.ai plan.
While you're going through our onboarding process to get your account set up, we'll create a referral link for you.
When you get a call summary or chat transcript (via email), you'll see a link to "Refer a friend!" at the bottom:

Open this new page and copy the URL. This is the link to share when you're referring people via email, SMS, social media, etc. Note that you'll also see your referral code on this page, and you can share that code, as well.
When someone uses your referral link or code to sign up and pay, we'll automatically give them $100 off their first bill and credit you for the referral, removing $25 from your monthly bill. It's that simple! The more you refer, the more you earn.
A few things to keep in mind:
After the person you referred signs up and pays for their first month, you'll get $25 off your Smith.ai service each month going forward, as long as they remain a paying client.
The $25 credit is for every paying referral. That means, if you refer 3 clients, you get $75 off your bill each month, down to a $0 balance.
There's no limit to how many people you can refer, but we will not give any additional credit in cash value if you reach the limit of your plan (however, you could always add more services or add-on features to capitalize on credits that would otherwise go unused).
The referral credits are indefinite. For the entire time your referral remains a client of Smith.ai, you will receive the $25 credit (which is connected to them) on your bill.
Frequently asked questions (FAQ) about the Smith.ai Referral Program
How do I refer my network and friends to Smith.ai?
You can send anyone to Smith.ai using your referral link. You are welcome to publish the link publicly on your social media platforms or send it directly via email or text message. You don't need to pre-qualify them for the service — just send them to us and we'll work with them on the plan and add-ons they need. 
Will my link change?
No. Your link is specific to your Smith.ai account, not the person you refer, so you can use it as much as you'd like! We don't expect to modify our clients' referral links once they have been created, but if we do ever change your link, we will notify you immediately.
If I have multiple people on my Smith.ai account, will I get more than one link?
No, there's just one link (and code) per Smith.ai account. If you have multiple staff at your company, there is only one link for everyone to share. We don't provide separate referral links for each of your staff members, so we can ensure all credits roll up on your single monthly bill.
Where should I share my referral link?
Facebook and LinkedIn networking groups, when other members ask about receptionist or chat services
Twitter, Facebook, or LinkedIn feeds, if you think your friends and followers may be interested
Resources like blogs, webinars, eBooks, and slide decks you have written on related topics
Sent directly via email/text message/social media direct message to industry friends and acquaintances who you think could benefit from Smith.ai's services
How do I get my referral code and link?
You can find your referral link at the bottom of your call summary emails or your chat transcript emails. If you click the link, you should see your referral code. Here's an example: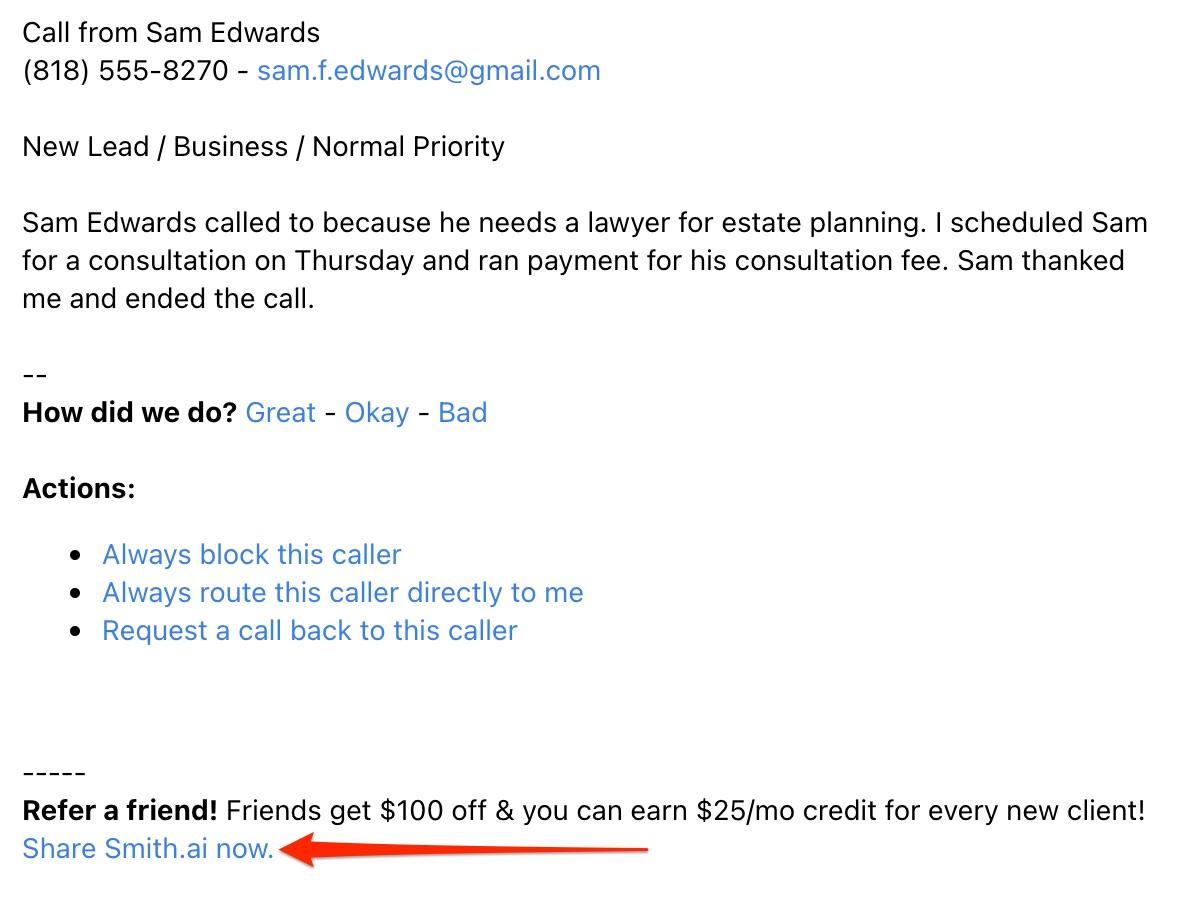 If you don't have a summary or transcript email yet, or you're having trouble finding the link, you can contact our team at support@smith.ai and we'll provide it to you.
What does someone see when they click on my referral link?
You're welcome to click the link and check it out for yourself, but your friends and peers will see a quick breakdown of our services, and then be sent to choose either a virtual receptionist or chat plan to get started. They will see a form on that page that looks similar to this (but with your code):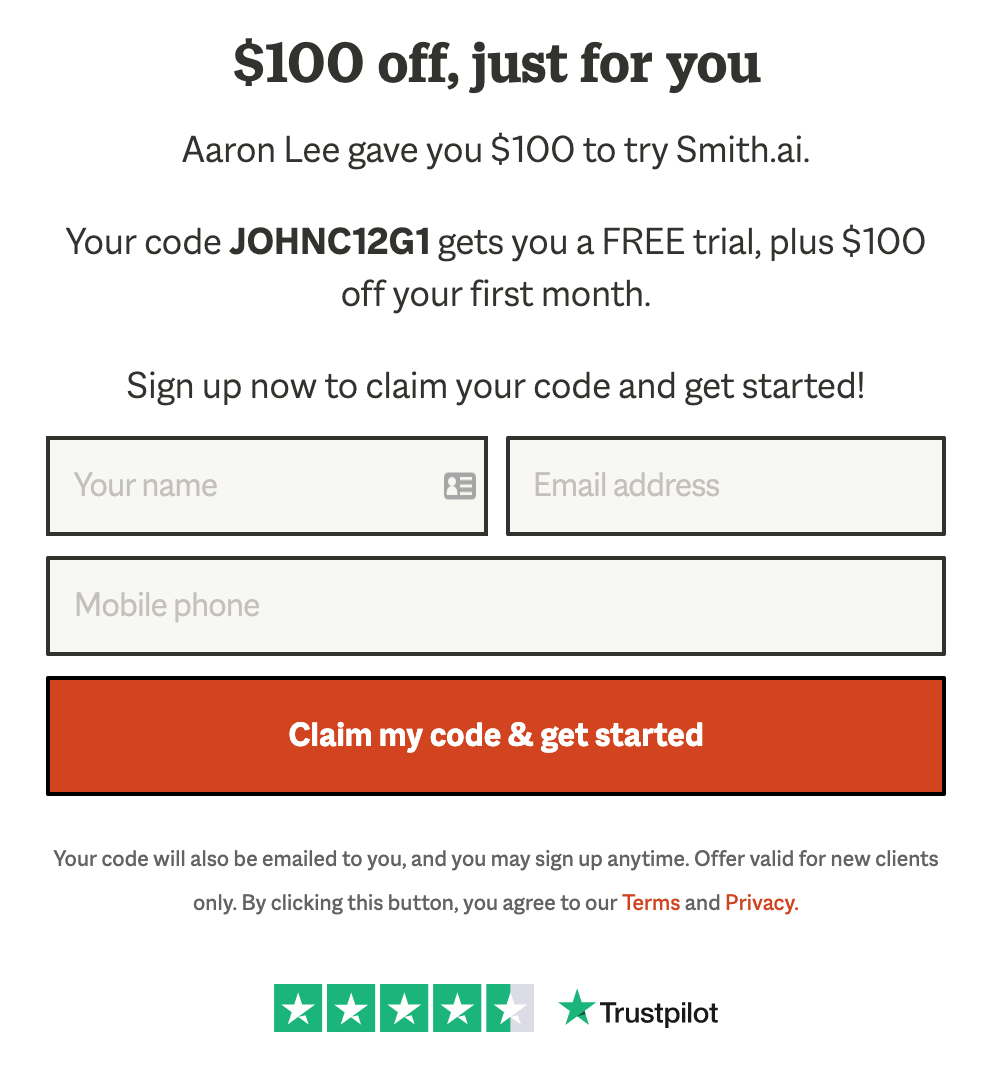 What are the benefits of referring clients to Smith.ai?
Each paying client you refer results in a $25 monthly account credit for Smith.ai virtual receptionist or chat services. You can use this credit towards your existing bill or choose to sign up for new services. The discount is automatically applied — just sit back and watch your monthly costs go down.
What benefits does my referral code provide to my friends?
Each person you refer will receive $100 off their first month of services (this can only be applied to the first month). They can use this $100 discount towards our virtual receptionist or chat services, as long as they are a first-time client.
When do I get my referral credit?
After your referral has made their first payment after the trial period, you will receive the $25/month referral credit starting on your next bill.
Does my monthly referral credit expire?
No. You will continue to receive the $25/month referral credit for as long as the person you referred is a client with Smith.ai.
Does my referral link expire?
No. You can continue to use the same referral link indefinitely. If it ever changes, you will be notified and it will be updated on your call summary and chat transcript emails.
Is there a maximum number of people I can refer to Smith.ai?
Nope. You can refer 1, 100, or 1,000 people. However, there is no cash value for the credit you receive for referrals and it doesn't accrue or roll over month-to-month. Once you have referred enough people to achieve a $0/month cost for your own services, there is no additional financial benefit to you, unless you add on more services or features. However, the people you refer will each still receive $100 off their first month of service, so that benefit remains.
Do I have to refer to people in my same industry? Is there anyone I can't refer to Smith.ai?
Everyone is welcome! We believe that anyone can use Smith.ai's services — you can refer your industry contacts, and also your friends, family, neighbors, and anyone else you know who may be interested.
Can I cash out my referral discount or transfer it to a friend's account?
No. The $25/month discount cannot be converted to cash. You must use your referral credit for your own Smith.ai account, and cannot transfer it to another.
Can I use my referral link for another of my businesses or locations?
No. You cannot refer yourself, a new location of your business, an employee, or another business you own.
What's the difference between my referral link and code?
The link sends people to a custom Smith.ai sign-up page that already has your code plugged in. We use your referral code in our systems to track and credit your referral. You are welcome to simply send people to the link, but if you're mentioning Smith.ai verbally and sharing the link is cumbersome or illogical, feel free to share just the code with them instead.
Is there anyone who isn't automatically signed up for the Smith.ai Referral Program?
Partners who receive benefits in other forms are not eligible unless they have specifically opted out of monthly referral credits, which is only an option for referral partners who have an active, paid Smith.ai account in place for their own business (i.e., such partners are both partners and clients of Smith.ai). See our terms of service for details.
How can I see how many people I've referred?
Contact us at support@smith.ai and we'll provide a current list of your referrals.
Questions? Contact us!
If you're already a Smith.ai client and need help, please email us at support@smith.ai or call us at (650) 727-6484 for assistance.
If you're not yet a Smith.ai client, please schedule a free consultation to get started with our virtual receptionist services or email us at sales@smith.ai. We'll help you select the best plan to match your business's growth goals and budget.