How to Connect Smith.ai to Apptoto
How to Connect Smith.ai to Apptoto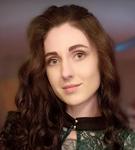 Updated by Crystal Field
Your Smith.ai receptionists can book and modify appointments for you on Apptoto. This is also the solution for booking appointments on your Google Calendar, since a direct integration with Google Calendar is not possible. Apptoto serves as a third-party solution, and for legal clients, AppToto offers a direct connection to Clio as well.
Setup is easy: Just sign up for Apptoto with your Google account (or skip this step if you've already signed up for Apptoto), and then send us your Apptoto link.
We can book appointments on multiple calendars within a single Smith.ai account. For example, if you'd like your receptionists to book appointments for all of the partners at your law firm, we can do so — just send us each individual's Apptoto link, along with any necessary directions for proper use.
Please note: Appointment booking is an add-on service for Starter, Basic, and Pro plans, and will incur an extra fee. 
View current pricing.
Appointment booking is not currently available for Essential plans.
Connect your calendars
If you sign in to Apptoto with your Google ID, your calendar is already connected. You can skip this step and go to availability. If not, connect your calendars here. Apptoto can connect with Google, Outlook, Salesforce, Office 365, Exchange, Clio, iCloud, iCalendar, and more.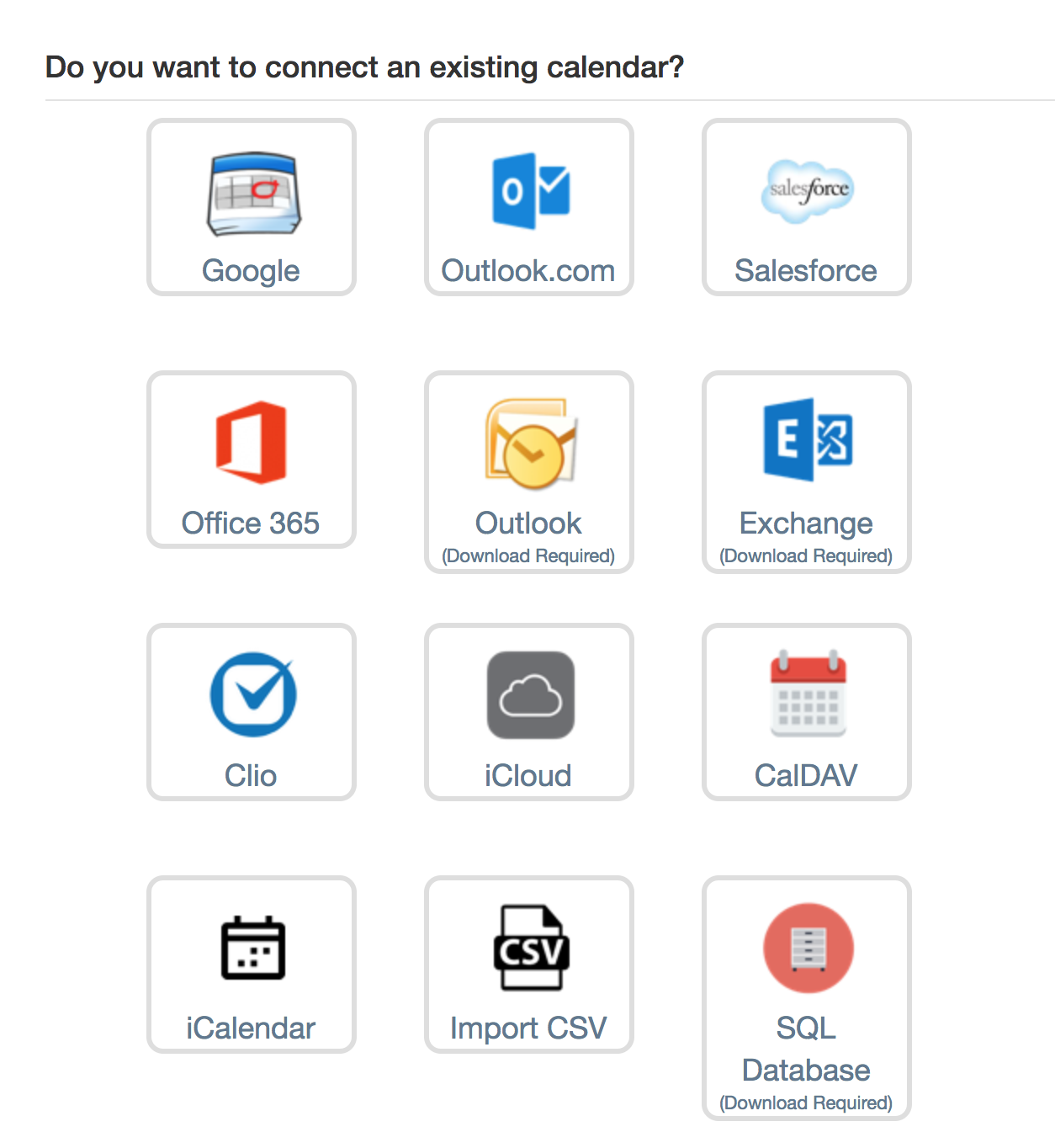 Set up your availability
Then specify which calendar to use for your availability, also in calendar settings.

Create booking and/or availability pages
Go to the Booking Pages tab
Create a Availability page
This is the page, or these are the pages, we'll use to book appointments for you and your team. You can customize the name (likely the name of your firm or business), logo, where to store contacts added, what custom fields you require for appointments, the email sent to the clients, and get the embed code.
Customize your availability page by setting a title, and uploading a logo.
On the next tab, create an appointment type or types, if you have more than one.

Set your availability. Please check "fix time zone".

Customize the rest of the appointment information required, email templates, and details
On the Contacts tab, please set verification to "None," or we will have difficulty booking appointments for you.

Copy the embed code on the last tab and email it to us. That's what we need!

Your booking page is now live!
That last tab is the important one for us. Please copy and paste your embed code, as we'll need it for booking appointments for you.
Smith.ai can now book appointments on your behalf with Apptoto. But there's also one other way you can utilize Smith.ai Virtual Receptionists with your calendar.
Following up to get more information from online bookings
Our receptionists can make Outbound Calls. Perhaps you've instructed us to only book appointments for you on your Prospective Client calendar, and only with appointment type "Free Consultation." However, your website may offer the full spectrum of calendar types. For those, we can help, too.
You can customize the "cc" field of any templated emails for appointment types to mail support@smith.ai. Here's an example:
Situation:
You practice employment law. Knowing that getting a client on your calendar is more effective than simply offering a web form, you allow people to schedule consultations from your website. However, in that field there is a high potential for conflict and clients outside your area. Since you want the most basic details, you keep the appointment booking form simple. But this results in a lot of phone calls in which your time is wasted, or you have to refer out.
How we can help:
Whenever the appointment type "Website - Free Consultation" is scheduled, it can CC our team, who will make an outbound call to get more information from the potential client.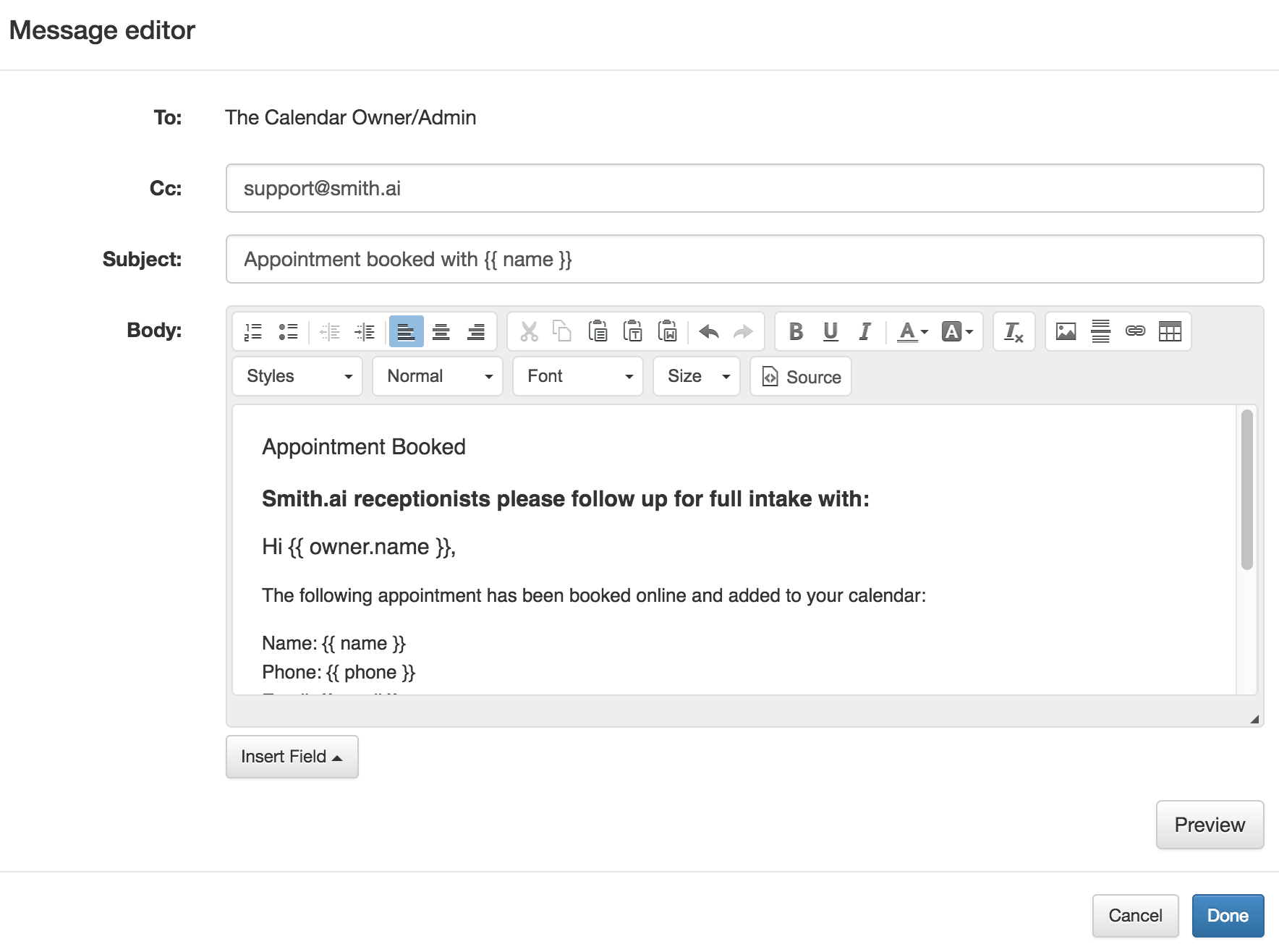 In that call we can get the details of the case and provide them to you, your paralegal, or your team for conflict checks and other issues that might disqualify. If all passes — great! You have a new client. And if not, we can call them back, tell them that unfortunately there is a conflict, and refer them to another attorney (or not).
Questions? Contact us!
If you're already a Smith.ai client and need help, please email us at support@smith.ai or call us at (650) 727-6484 for assistance.
If you're not yet a Smith.ai client, please schedule a free consultation to get started with our virtual receptionist services or email us at sales@smith.ai. We'll help you select the best plan to match your business's growth goals and budget.