How to Send Calls from WhatConverts to Smith.ai
How to Send Calls from WhatConverts to Smith.ai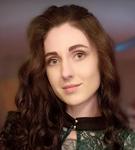 Updated by Crystal Field
WhatConverts makes it easy to attribute sales to traffic sources based on phone calls, chats, forms, and transactions. In this help doc, we will go over a few different ways that you can set up call forwarding in WhatConverts to send your calls to Smith.ai. Tracking numbers allow WhatConverts to track leads, and having Smith.ai answer your calls will ensure calls are handled professionally and promptly.
The first option to get the best comprehensive data from your calls, WhatConverts recommends using Dynamic Number Pool with an All Traffic trigger. 
The second option allows you to forward all leads, or only leads from certain sources, to your Smith.ai phone number, so our receptionists can answer.
The third option allows you to create a "simple menu call flow" that forwards specific callers to Smith.ai, based on your caller's selection among certain prompts. You can choose the option that best suits your business.
Option 1: Using Dynamic Number Pool with an All Traffic trigger. 
Select Your Tracking Numbers. Most websites will only need to select four phone numbers to be allocated to the Dynamic Number Pool. If you have a high traffic website, use this calculation to determine how many phone numbers you will need.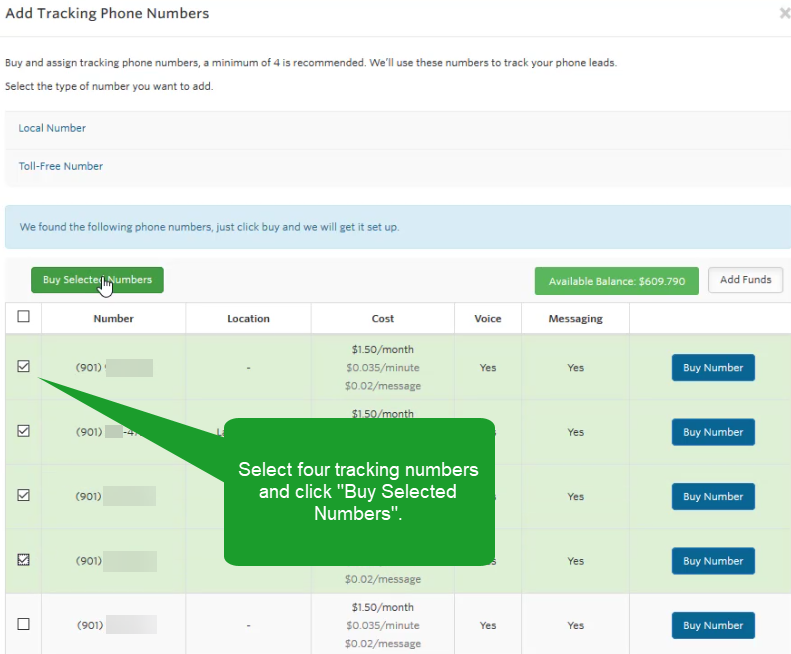 Assign the numbers and set your Smith.ai Destination Number. Turn on Dynamic Number Insertion and select the "All Traffic" pool from the drop-down menu. Underneath that, add your Smith.ai number as the destination number. Click "Update". An All Traffic Dynamic Number Pool is automatically created with each new account.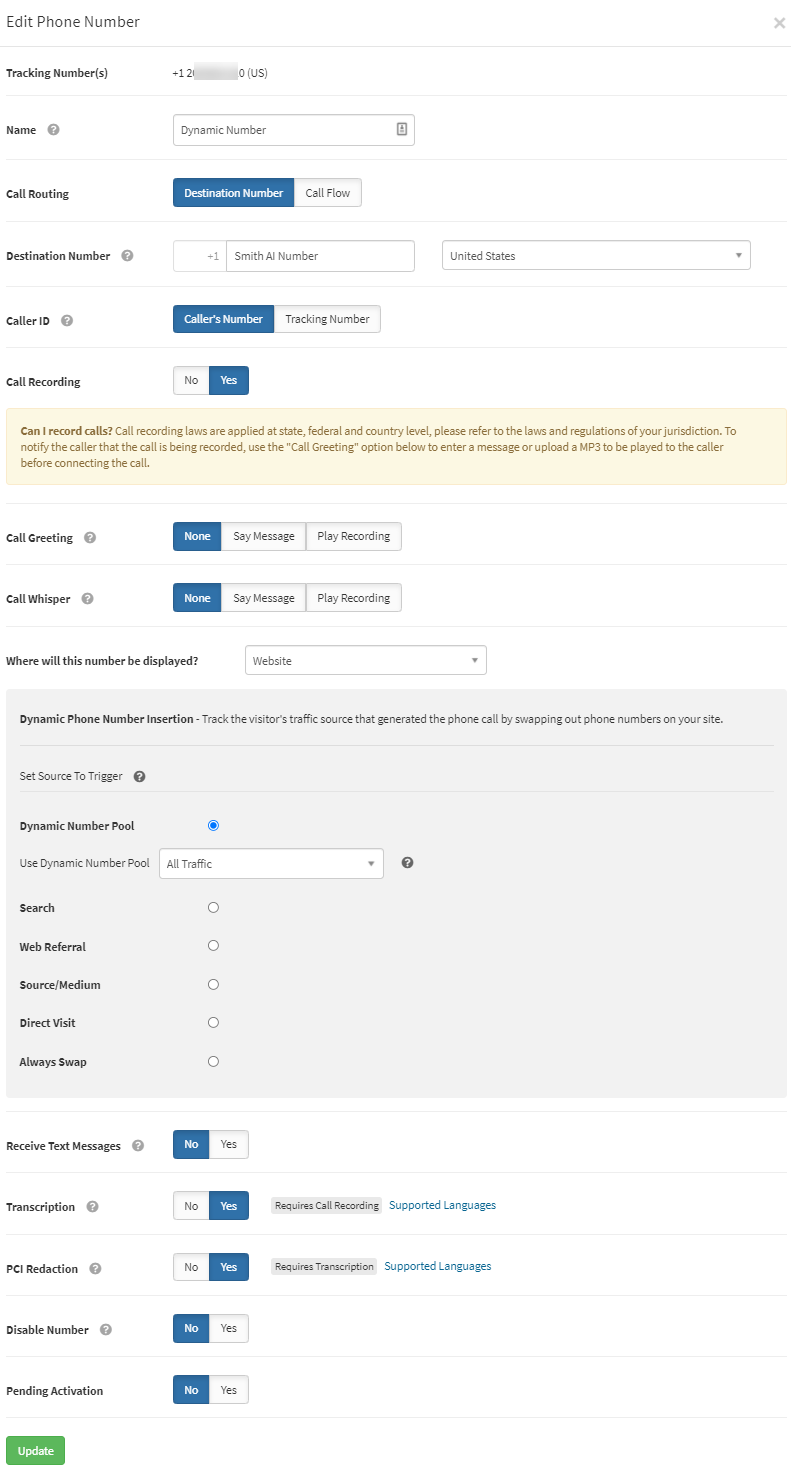 Check your Swap Number. Your Dynamic Number Pool is automatically populated with your destination number as the Swap Number.

Install the WhatConverts Tracking Script. Use either the HTML method or the WhatConverts WordPress Plugin to install your WhatConverts tracking script. Click here for full details.
Visit your website by appending the following parameters to your URL (this simulates a Google Ads click): ?gclid=test&wc_clear=true
Example: https://www.whatconverts.com/?gclid=test&wc_clear=true
Place a call to the tracking number you see on your site. It should connect you with Smith.ai. 
After you hang up, refresh your WhatConverts dashboard to view your new phone call and all of the marketing and lead data associated with it.
Option 2: Call Forwarding based on All Callers, or Callers from Specific Sources
If you want Smith.ai to answer all of your calls, or calls from specific sources (like paid Google Ads), you can set this up within this step.
Note: The Destination Number is the number that your newly acquired Tracking Number will forward calls to when calls are connected. In this case, your Destination Number will be your Smith.ai phone number. 
Add a tracking number to forward to Smith.ai. Go to your WhatConverts dashboard, click "Tracking" in the left-hand menu and select "Phone Numbers". On the Phone Numbers page, select "Add Phone Number".

You'll be prompted to select either a "Local" or "Toll-Free Number". Choose the area code you wish your number to have. Hit "Search" to see a list of available numbers you can forward to Smith.ai.

Select the number(s) you would like to use for Smith.ai and click "Buy Number". 
Assign a Name and Destination Number. In this case, your Destination Number will be the Smith.ai number.
Next, you'll choose which website visitors see this tracking number. You should assign different tracking numbers to different sources; i.e., one for Google Ads, one for Google Organic, one for Facebook Ads, etc. This example will show up for people who click on a Google Ad.

The last step is to choose which number on your website you want to swap out with the tracking number. It will likely be your business's main phone number that you have posted on your site.

You can also choose to forward calls to Smith.ai using a Call Flow menu. See below for instructions. 
Option 3: Call Forwarding Based on Callers' Need or Intent, via a Simple Menu Call Flow
Note: A Simple Menu Call Flow will route your calls to a specific number. WhatConverts records and reports on the menu options selected. You can add Smith.ai into one or more of the call flow.
Log in to your WhatConverts Dashboard. Under Profile, select "Tracking", "Phone Calls". When the Phone Calls dropdown opens, select "Call Flows".

At the top of the page, select "+ Add Incoming Call Flow" at the top of the page.

Select "Simple Menu" to set up a Simple Menu with editable options to route your calls to different destination numbers. In this scenario, you can route a specific department's calls to Smith.ai.

The next page will look something like this, with your Simple Menu set up. In this example, you can see we have an option for Sales and Support and in this scenario, your sales calls will be directed to Smith.ai based on caller pressing '1'.

To get callers to press '1' and be routed to Smith.ai to discuss a sales inquiry, you will need to add Smith.ai in this step:

Edit your Dial steps.
Click the "Edit" icon in the top left of the Dial module.
Give your module a name that identifies the step. In this case, Sales calls to Smith.ai.

Select your Dial Type by choosing "Direct Call", and enter the "Destination Number" of your step (this is the Smith.ai number).

Choose your Timeout (the number of seconds the Dial step will ring before moving onto the next step). Be sure to set the Timeout at 60 seconds to ensure Smith.ai has enough time to answer your call.
Scroll to the top of your Simple Menu Call Flow, and "name" your call flow, and then click "Save Call Flow".

Lastly, apply your Call Flow to your tracking number by looking under your Profile, select "Tracking", "Phone Calls," and "Phone Numbers". You can click the "Gear Icon" at the end of the row to edit your tracking number(s).

Once you've set this up, you'll be able to track numbers and leads using WhatConverts, assign appropriate marketing attribution, and better measure results from marketing campaigns. Your campaigns will also convert better by having Smith.ai answer your calls 24/7!
Questions? Contact us!
If you're already a Smith.ai client and need help, please email us at support@smith.ai or call us at (650) 727-6484 for assistance.
If you're not yet a Smith.ai client, please schedule a free consultation to get started with our virtual receptionist services or email us at sales@smith.ai. We'll help you select the best plan to match your business's growth goals and budget.