Best practices for Using CallRail with Smith.ai
Best practices for Using CallRail with Smith.ai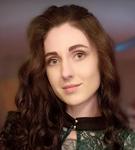 Updated by Crystal Field
CallRail's features and Call Flows make it simple to set up your account to forward your calls to Smith.ai. There are several options for steps that you can use in your Call Flow, depending on what you need.
The following will cover what these steps do, and outline the best routes and tips on how to use them.
What are Call Flows
Using a phone tree Menu
Other CallRail steps and what they do
Setting up Voicemail
Call Flows are a feature that allows you to handle incoming calls in specific routes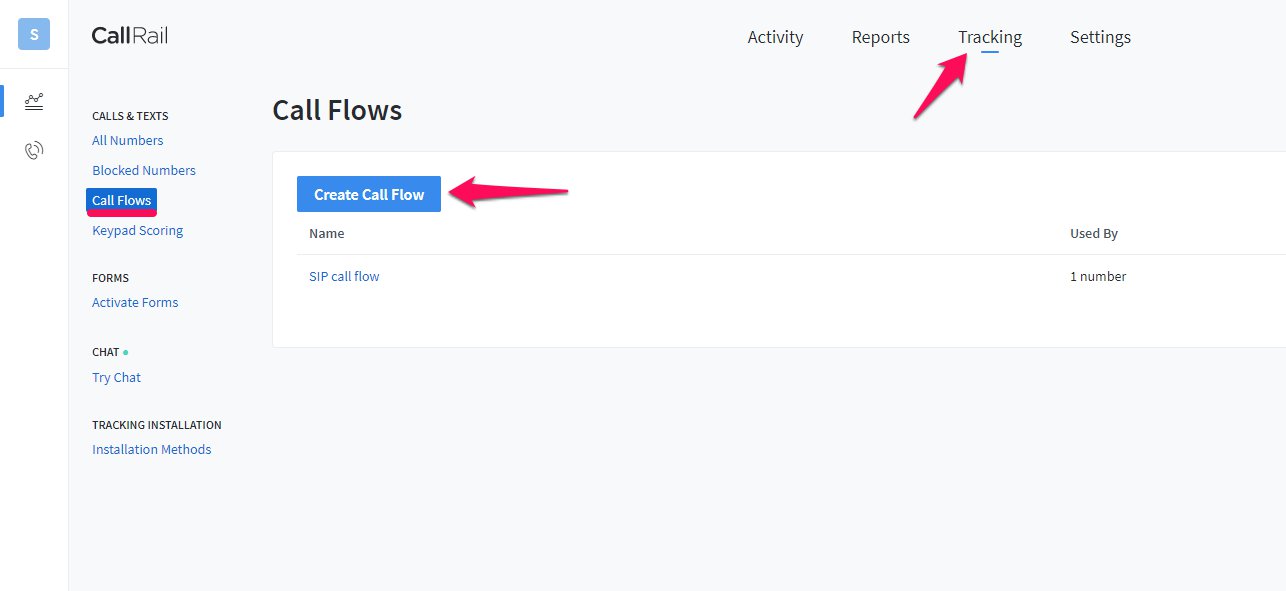 To view the different options that are available, go to Tracking on the top of the Dashboard page, then Call Flows, and Create Call Flow. There are templates you can choose from, or you can build one of your own.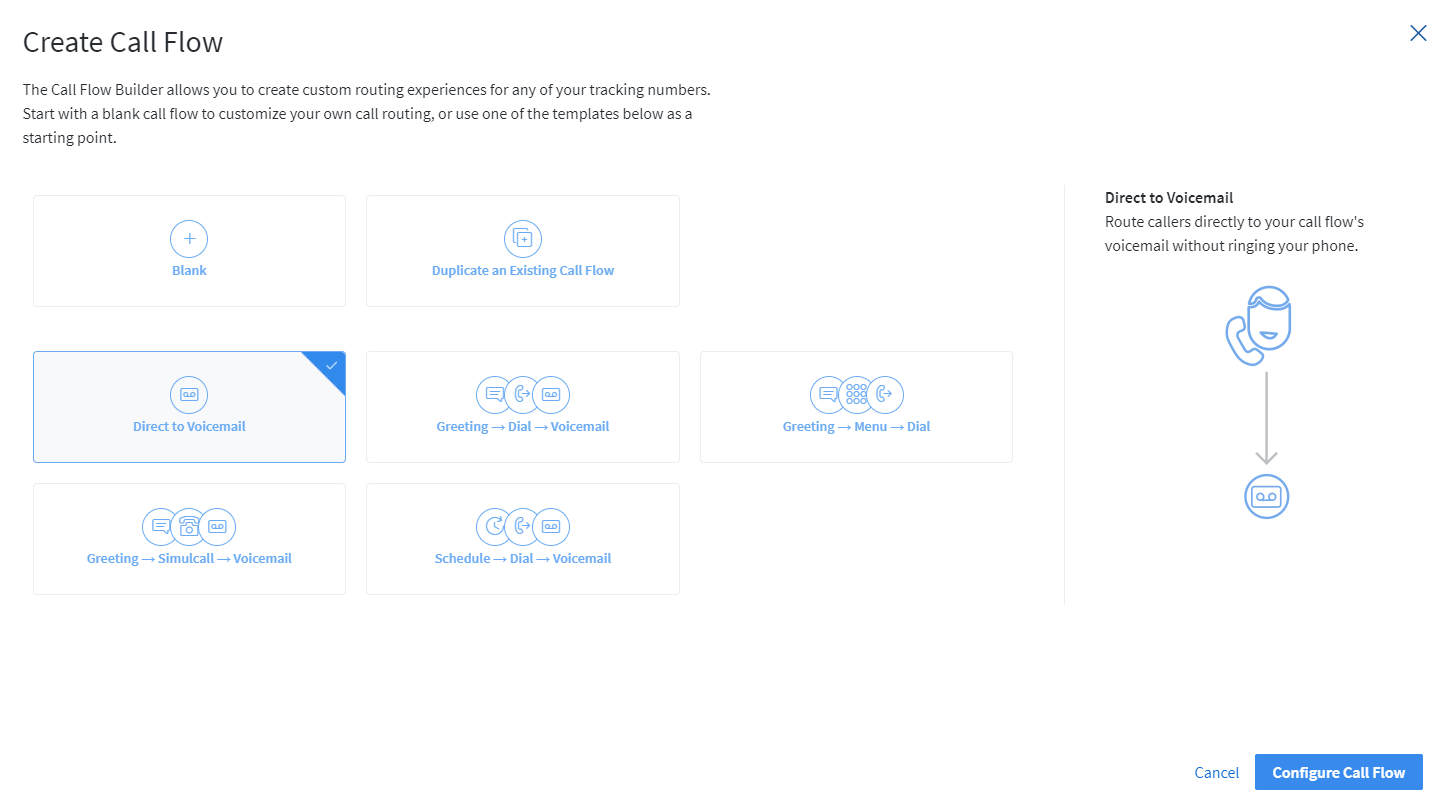 You will need to choose if you want your calls recorded or not. If so, a Greeting will play a message to the caller notifying them that the call is being recorded.

The Greeting step will play an automated message that the caller will hear, usually used with the record calls option.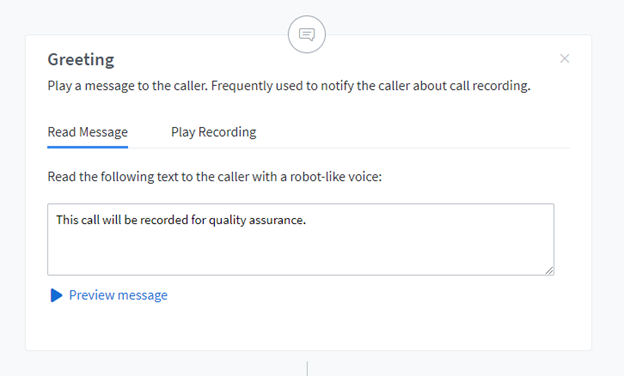 Using a Phone Tree Menu
The Menu step is used to create an automated phone tree, allowing the caller to select a number on their dial pad to reach a certain line. The lines are then forwarded to the destinations you would like to answer. If you click on a forwarded line it will take you to the next call step for that specific option.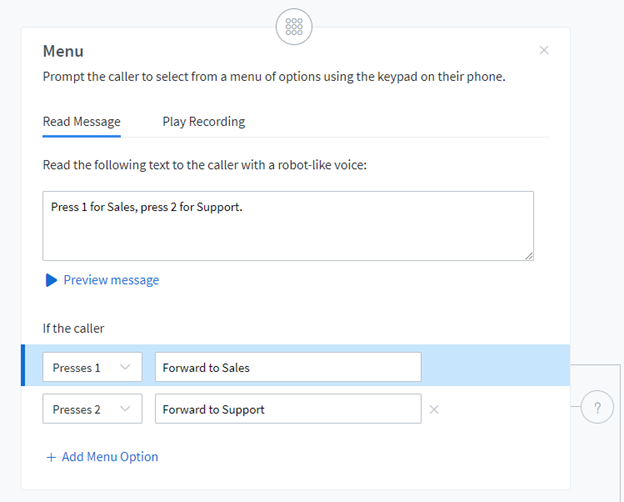 If you are using the Menu step and are forwarding one of the lines to Smith.ai, we highly recommend using the Dial step next to direct dial to your Smith number, and setting the ring limit to 60 seconds to ensure we have enough time to answer your calls.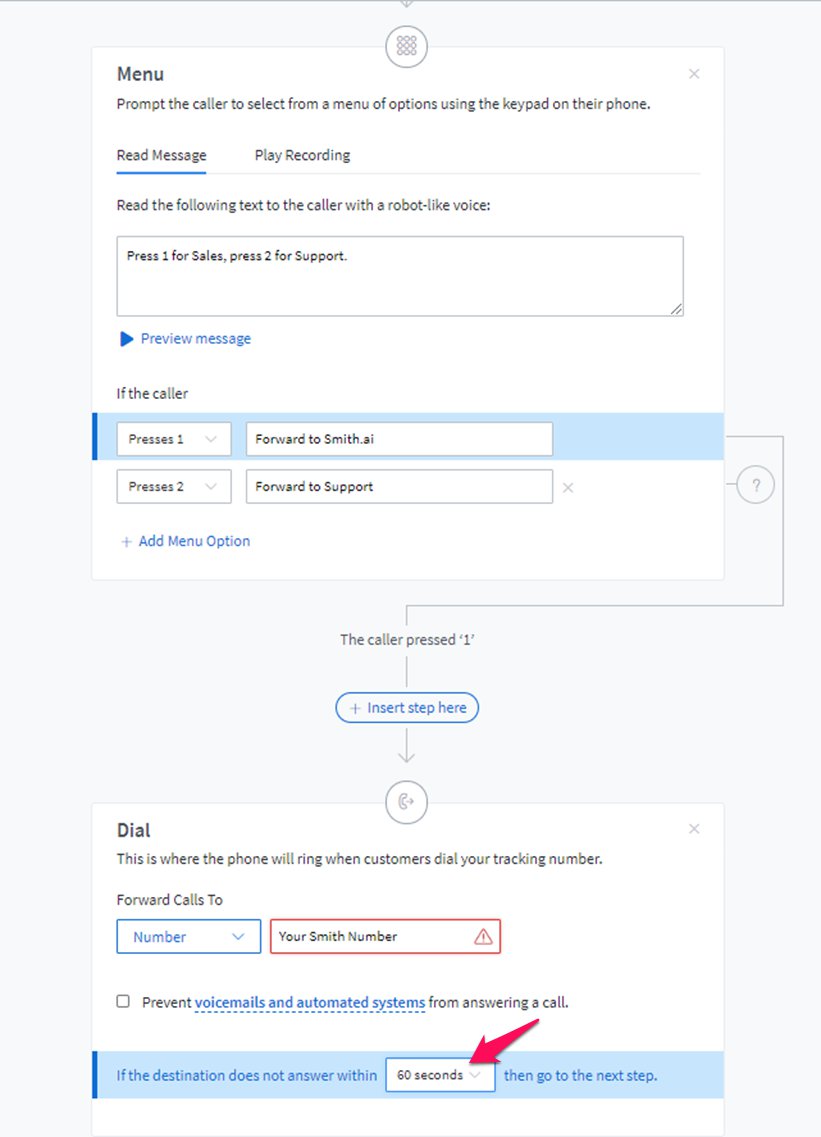 The Dial step is used to directly dial a singular number when a call reaches that step of the call flow.
If you have the Prevent voicemails and automated systems box checked, it will play an automated message when the call is answered, asking us to press 1 to accept the call.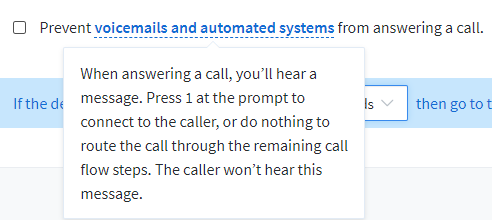 We do not recommend using this option for the line you are forwarding to Smith.ai, as it tends to delay calls from being answered. If for any reason you need to use this feature please notify our team, so we can note it in your instructions to press 1 to accept your calls.
Additional Call Flow steps
The Simulcall step is used to call blast several phone numbers at once. This is useful for in-office use, but not recommended for forwarding to any outside source.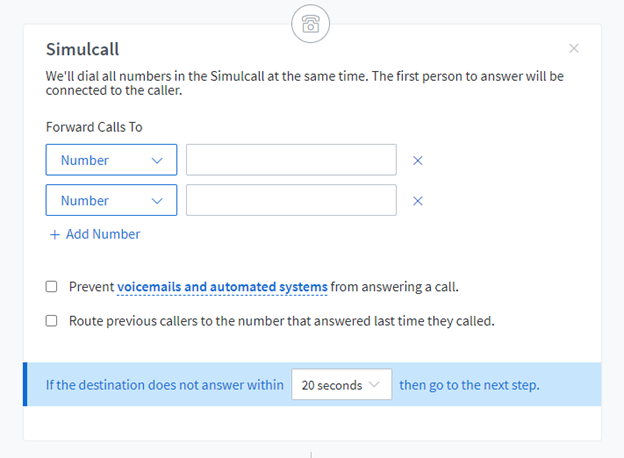 The Round Robin step is used to sequentially forward calls to the numbers you put in, rotating evenly between them. This means a call could go to one number, and then the next call is routed to the other. We do not recommend using this step forwarding to Smith.ai, as we can't guarantee that all of your forwarded calls would reach us.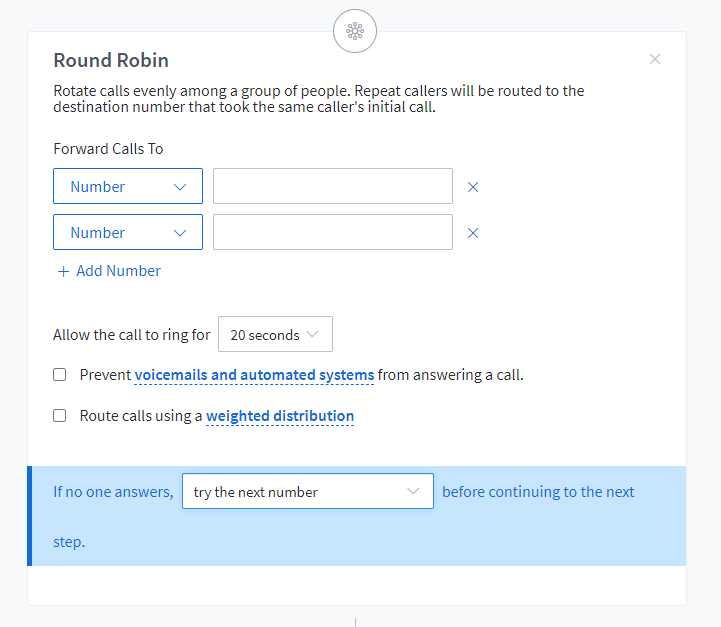 Repeat callers are automatically sent to the number that first took their call.
The Schedule step allows for time of day call routing that sends calls to the next step according to what day and time it is. You can use this if you want calls to route to different steps depending on when they call in. Schedule branches route the calls for different times, sending the call to the next step according to your settings.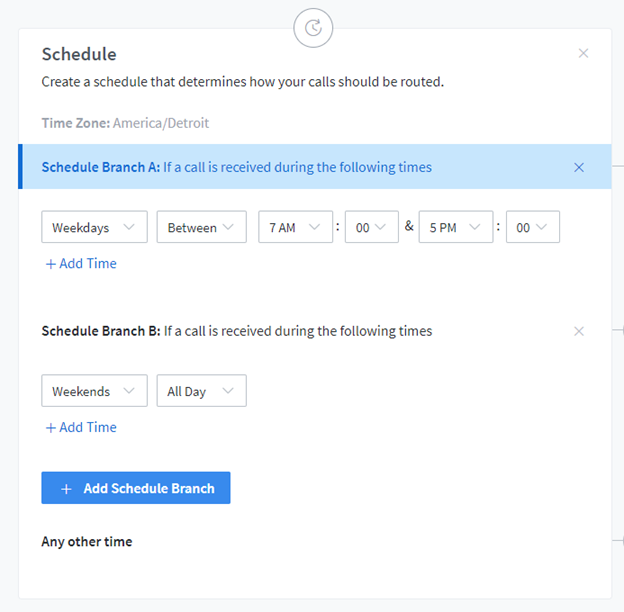 Geo Routing is used to send calls to designated steps, depending on the area code of the number calling in. Geo Routing automatically routes callers to the business location closest to them.
(Note: Geo Routing is an "advanced call routing step" in CallRail and incurs an additional cost. See CallRail's pricing page for details.)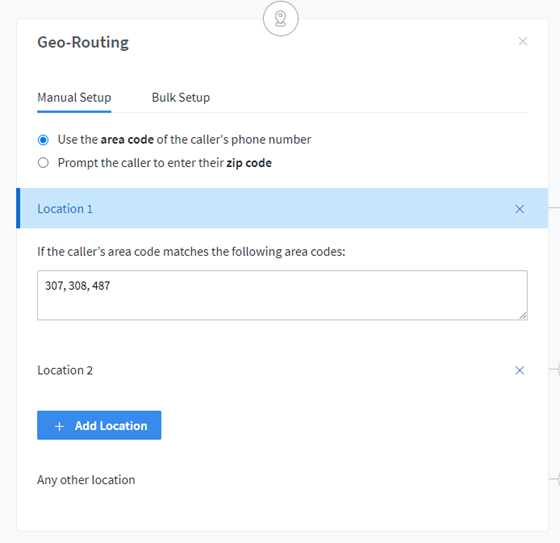 You can use the Prompt option as well which will ask the caller to dial their area code, and you can route the call depending on the option chosen.

The Responsive Routing step can be used to send calls to certain steps depending on the criteria you set. You can use it for first time callers, or use your tracking numbers, Keywords, and campaigns as well. Responsive Routing lets you route callers based on specific conditions without having to use different tracking numbers.
(Note: Responsive Routing is an "advanced call routing step" in CallRail and incurs an additional cost. See CallRail's pricing page for details.)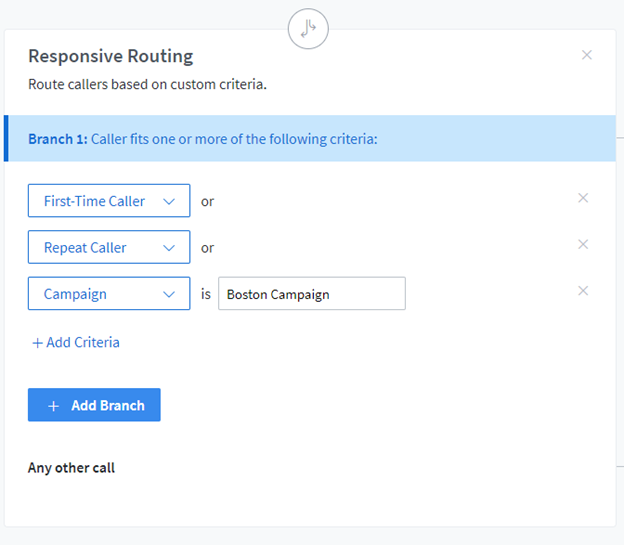 We recommend using the Dial step next for any Smith.ai call forwarding if you choose to have a Schedule, Geo Routing, or Responsive routing step in your Call Flow.
Voicemail
The Voicemail step is used to send calls to voicemail, which you can choose the one provided or insert a recording of your own. If you are forwarding your calls you will want to use this step at the end of the flow to catch any calls that are direct transferred to you, or for flows that do not route to us.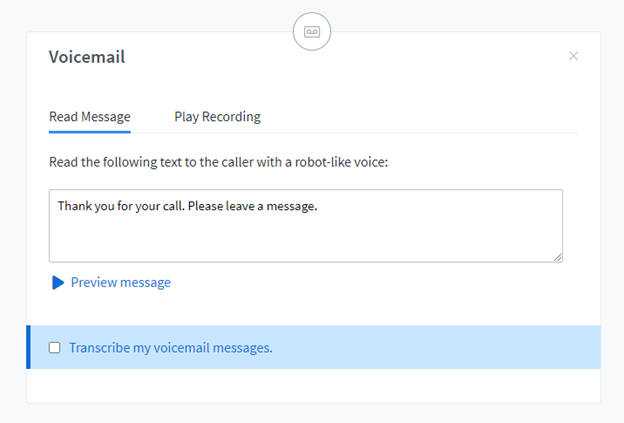 Not Using Call Flows?
If you are not using Call Flows for your call routing, you can forward your calls directly from your tracking numbers, under the Tracking tab. Instructions to do so are located here.
You will want to make sure you have all of your settings properly set up to optimize your call forwarding. Having the
Caller ID enabled
is important for us to be able to screen your calls, so you are not charged for sales or spam calls.
Questions? Contact us!
If you're already a Smith.ai client and need help, please email us at support@smith.ai or call us at (650) 727-6484 for assistance.
If you're not yet a Smith.ai client, please schedule a free consultation to get started with our virtual receptionist services or email us at sales@smith.ai. We'll help you select the best plan to match your business's growth goals and budget.