Scheduling Appointments with MyCase & Smith.ai
In order to have your Smith.ai receptionists schedule your appointments, you will need to go through a third-party scheduler like Calendly. The following steps will show you how to sync your MyCase with Google and/or Outlook Calendar, which you can then connect to Calendly to generate a public link for your Smith.ai receptionists to use.

How to connect MyCase with Google Calendar/Microsoft Outlook
In your MyCase Dashboard click your name in the top right corner, then click on Integrations & Services.

Go to the Calendar Integration App, and then click on Sync with MyCase.

In the pop-up window, select the calendar you want to sync with, Google Calendar or Outlook.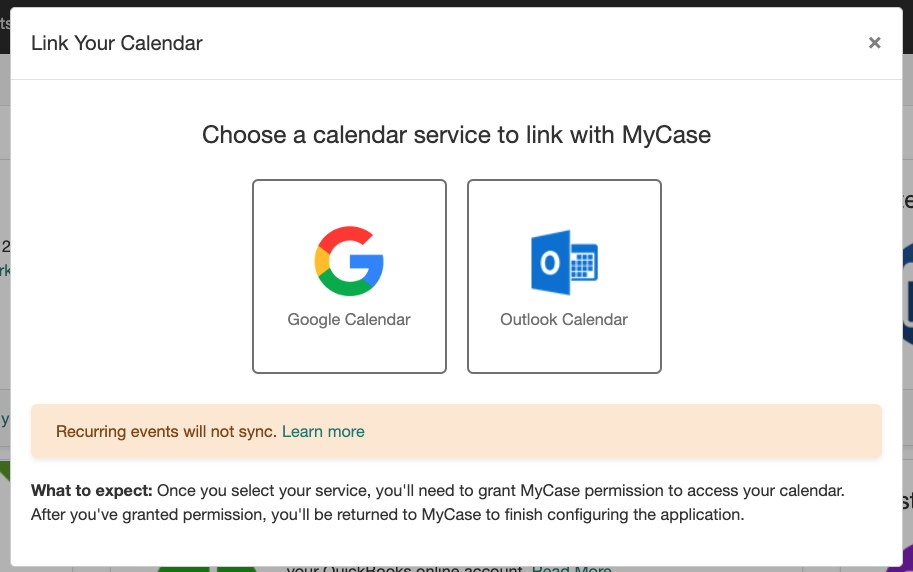 You'll be redirected to sign in to your Google or Outlook account.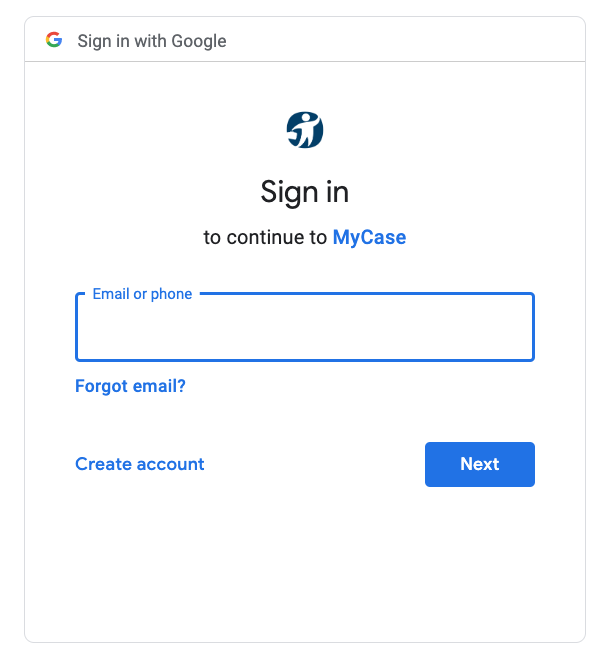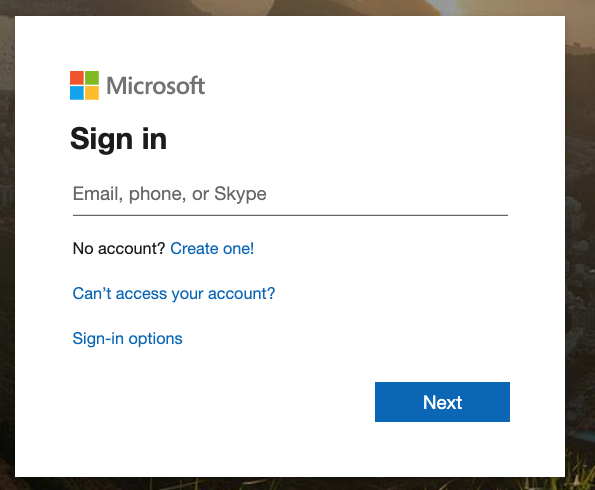 After signing in, you will be asked to Allow permissions for your calendars to have access to each other. Click Allow or Yes.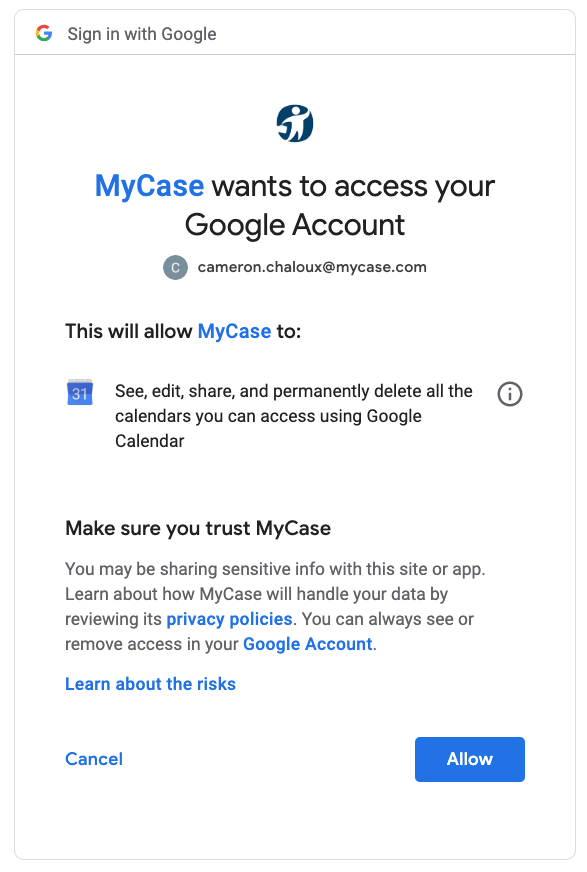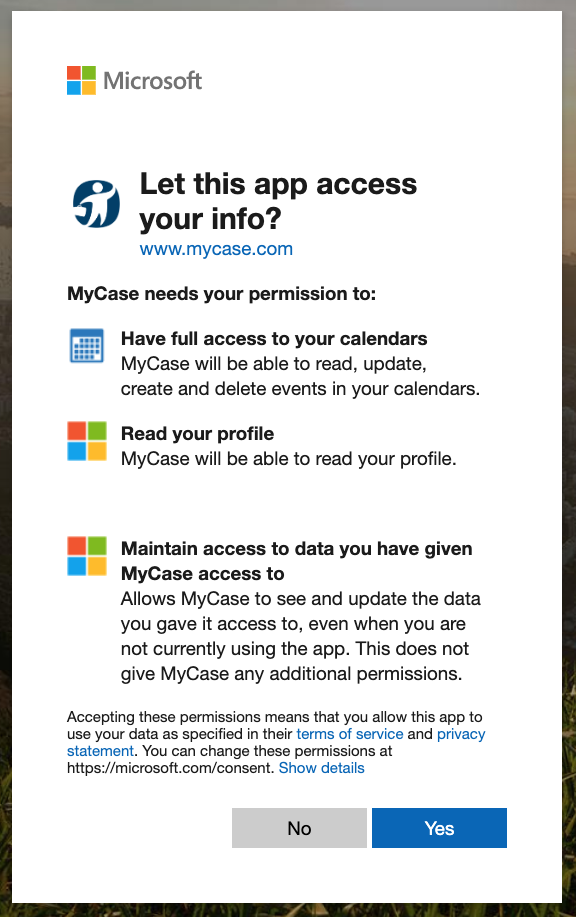 You will then be taken back into MyCase and presented with a window that will show How Calendar Sync Works. To exit, click on Close or Go To Calendar.
Once your MyCase account has been successfully linked with Google/Outlook, your Calendar will have a new calendar added to it called "MyCase". 
It is important to remember that only calendar events
added/edited in the "MyCase" calendar
will be synchronized with MyCase.
 All of the other calendars in Google are invisible to MyCase.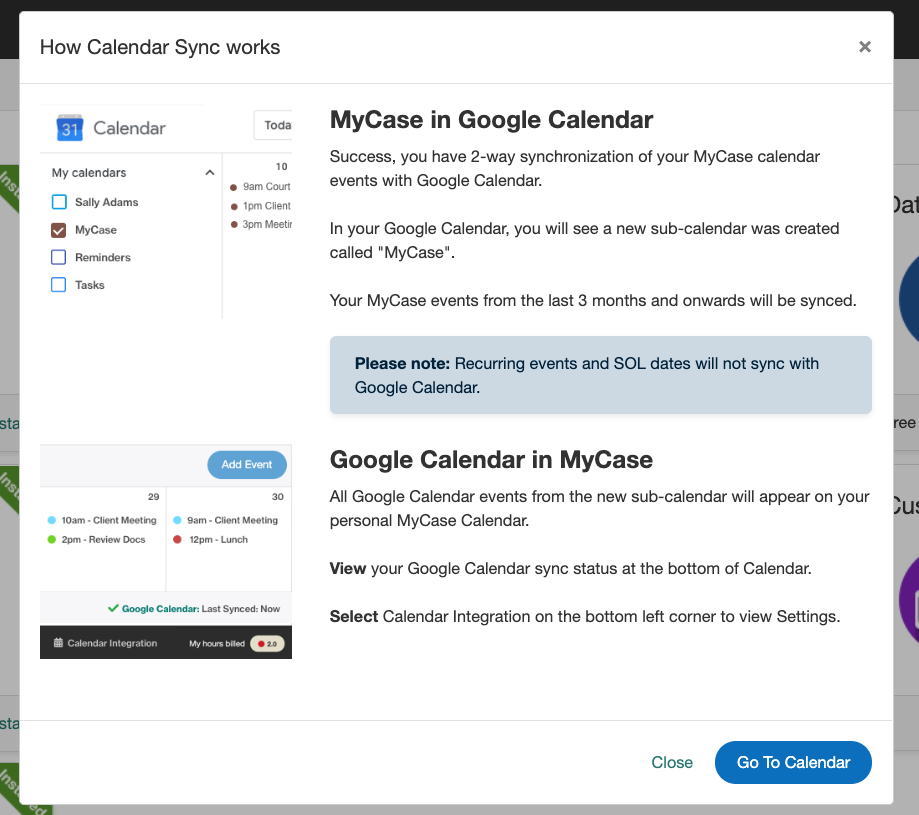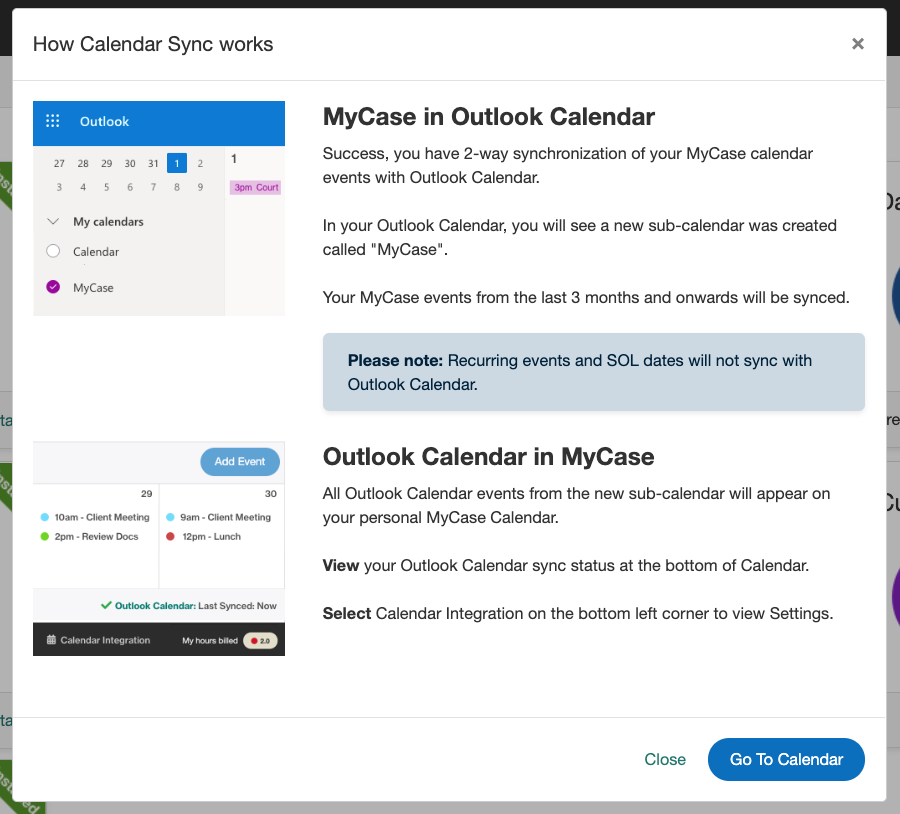 Your existing scheduled events will not automatically sync to your MyCase calendar. If you would like your existing Calendar events to appear in MyCase, please follow these instructions -
Getting Existing Calendars into MyCase for
Outlook
and
Google
.
You have now connected your MyCase calendar with either Google or Outlook. You now will have to connect your Google/Outlook account with a Calendly calendar. This is because Calendly will provide a public link to your Calendly calendar which is the one we will use to schedule your appointments. Here are some easy instructions on how to connect these calendars:
 How to connect your calendar to a 3rd party scheduling app
Lastly, send us your Calendly link.

Go to your main Calendly account dashboard, and click"Copy Your Link". Send this link to support@smith.ai with the subject line, "Calendly link." Be sure to include any specific instructions for using this calendar. Please reference How to connect Smith.ai to Calendly.
That is it! Now when Smith.ai schedules appointments from your scheduling tool like Calendly, thanks to the connection you've already made between your Google/Outlook calendar and MyCase, you'll now see booked appointments in MyCase!
Need help?
If you need any assistance, please email us at support@smith.ai or call us at (650) 727-6484.
---
---