How to forward calls from GoToConnect to Smith.ai
How to forward calls from GoToConnect to Smith.ai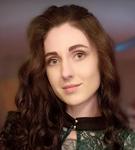 Updated by Crystal Field
The following instructions will show you how to set up your call forwarding from GoToConnect to your Smith account:
Direct Call Forwarding -
When you hear a dial tone, enter the internal extension or external phone number you want calls forwarded to. Note: If your system admin has enabled Block Caller ID on the phone number used by your line, your caller ID will remain blocked when forwarding to an external phone number.
Hang up.
To turn off call forwarding, dial *73 from your phone and hang up. This does not disable any call forwarding settings configured from the phone's menu.
Conditional or Time based call forwarding -
Using the Find Me Follow Me option
Log in to GoToConnect desktop or mobile.

From GoToConnect desktop or web, click your profile picture in the left sidebar, choose Settings and then click Find me follow me.

From the GoToConnect mobile, tap in the top left, choose Phone and then tap Find Me, Follow Me.

The Ring Step defines which extension and number to ring when someone calls the line. You can set up the line to ring more than one phone simultaneously by adding multiple numbers to a ring step, or sequentially by creating multiple ring steps. If you want calls to ring you first before forwarding, you will place your own line/number as the first ring step.

Turn off the Confirm Pick up, this requires us to press 1 to accept the call, which can hinder the forwarding process.

Make sure the Pass–through Caller ID is enabled so the caller's number shows when we receive the call. Also, check that the ring time is 30 seconds or more on your Smith number, to allow your receptionists enough time to answer the call.
For conditional call forwarding, you can also use 'No answer, send to' and select External, then add your Smith number to forward calls to.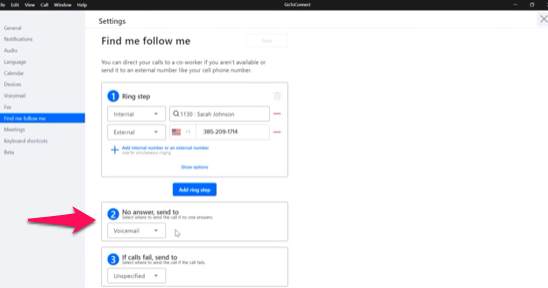 Click Save.
Using the Dial Plan -
Log in to the Admin Portal.
Click Dial Plans in the left sidebar and then click Add Dial Plan.
The next available number will automatically populate the Extension; you change this number as needed.
Enter a Name for the dial plan.
Click the checkmark, and then click on the Dial Plan to open the editor.
Set up how you want calls routed by dragging and dropping in nodes. If you're looking for a time-based forwarding, you can use the schedule node to route calls according to your defined times in your schedule.
To forward calls to your Smith account, choose the External Number node and drop it in. Then enter your Smith number.
Click Save
Route phone number to your call forwarding dial plan
Click Phone Numbers in the left sidebar.
Click the pencil in-line for the phone number you'd like to route to the new dial plan.
From Route to, search for and select the new dial plan.
Click the checkmark.
Questions? Contact us!
If you're already a Smith.ai client and need help, please email us at support@smith.ai or call us at (650) 727-6484 for assistance.
If you're not yet a Smith.ai client, please schedule a free consultation to get started with our virtual receptionist services or email us at sales@smith.ai. We'll help you select the best plan to match your business's growth goals and budget.