How to have Smith.ai answer SMS/text messages to your business
How to have Smith.ai answer SMS/text messages to your business
Updated by Justin Maxwell
Context
Whether you're already a Smith.ai Chat customer or not, you need to meet your clients and potential leads where they want to meet you, or you're missing opportunities and making their life harder. Increasingly — and not just "millennials" — clients prefer to communicate by text/SMS. This presents a challenge for you as the business owner because that means you might have to give out your cellphone number (TERRIBLE IDEA! DON'T DO IT!).
Instead, people can text you — and our Live Agents & AI Chatbot can respond to them, qualifying them, booking appointments, and more.
How to set it up
New Smith.ai Chat clients
Sign up for a Live Chat account here, then continue to the next section
Existing Smith.ai Chat clients
Once your account is set up and ready, activate the SMS channel in your channels

Go to the SMS channel and select it

Choose a number appropriate for publishing on your website or other marketing materials

Note: If you want this number to be the same as your business number, you must have active Virtual Receptionist service with us and have ported your number to us. Otherwise, it's not technically possible.

Contact us

for more information.

You can search by prefix or string, such as "213" or "LEGAL"

You are now immediately ready to share this number publicly — Smith.ai will respond to it!
How to disconnect or change
To disconnect the SMS service (or to start over and choose another number), click the "Disconnect" button and confirm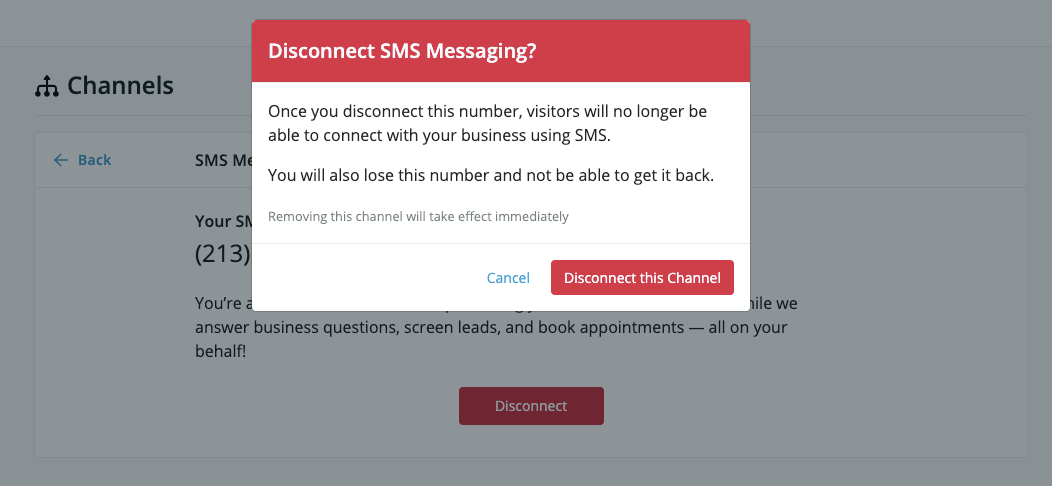 Questions? Contact us!
If you're already a Smith.ai client and need help, please email us at support@smith.ai or call us at (650) 727-6484 for assistance.
If you're not yet a Smith.ai client, please schedule a free consultation to get started with our live chat or email us at sales@smith.ai. We'll help you select the best plan to match your business's growth goals and budget.